How to Create Freelance Marketplace Like Fiverr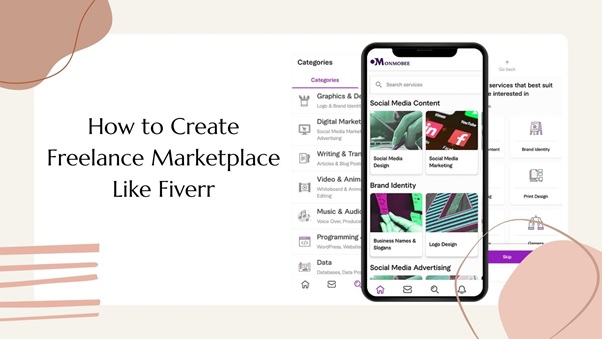 Fiverr is one of the most popular freelance marketplace platforms where organizations from around the world meet with the top freelance talent. The platform has over 5.5 million buyers and more than 830,000 registered freelancers. In the year 2021, Fiverr is a public company valued at $7.5 billion. For this very reason, startups and entrepreneurs are looking to replicate the success of this Fiverr and launch their own marketplace.
If you are planning to dip your toes in this sector and create your own freelance marketplace like Fiverr. Then, this post is a must-read for you. Here we will discuss every aspect of the freelance platform from working, development process, cost, features to revenue mode.
Let's dive in.
How Does A Freelance Marketplace Work?
Fiverr clone provides a platform where organizations worldwide meet the top freelance talent and skilled professionals needed to complete their projects. Initially, the platform started offering services like translation and logo design for $5 and later on expanded and now offers hundreds of services.
Both organizations and freelancers can create their profiles on the freelance marketplace and find what they are looking for. A freelancer can create their profile with information such as skill, experience, and previous projects to help clients find the right talent pool for their project. Organizations can create their profile and post jobs and outsource the work to the desired talent pool. Now, you know how a freelance marketplace works. It's time to see the development process that you can choose to build your own marketplace and development cost.
Freelance Marketplace Like Fiverr Development Process & Cost
All set to start building your freelance marketplace like Fiverr? There are two development methodologies that you can opt to build and launch your own freelance marketplace –
Ready-made software development
Scratch development process
Now, let's discuss both the development methodologies in detail.
Ready-Made Software Development
Ready-made software solutions, also known as white label solutions, are the best way to speed up the development process and instantly launch your freelance marketplace. These ready-made solutions are tested multiple times and, on top of that, can be tailored to meet any specific client needs. The best thing is that you can see the demo of the product or the ready-made solution to see whether it specifically meets your business needs.
And one-time payment makes it easy for entrepreneurs or startups to have a clear idea about the development cost. Compared to the scratch development process, the ready-made solutions will save 20-30 percent of the development cost and time. With ready-made solutions, you can launch your free marketplace platform within three to four weeks.
Scratch Development Process
Scratch development requires a huge investment and is a relatively more time taking process. As an investor, you need to hire a whole developer, designing, and testing team to ensure that the freelance platform works as desired. The development work might take months to complete; however, keep in mind that there are more chances of bugs and errors as compared to the ready-made solutions that are tested multiple times.
Comparing both, the scratch development process cost high. Thus preferred for the development of unique products that can't be resold to others. Now you might be wondering which development process is the best. Well, the answer is simple, it all depends upon what end product you're looking for and your overall budget for the same.
If
your goal is to launch a one-of-a-kind freelance marketplace and have a budget of, let's say, around $10,000-$40,000. Then, the scratch development process is the best option for you. If you are looking to launch a similar Fiverr-like marketplace with some customization and have a development budget of around $1000-$2000. Then, ready-made or white label solutions are the perfect option for you.
How Freelance Marketplaces Like Fiverr Generate Revenue?
Like any other investment, it is vital to understand that your freelance marketplace will generate money. There are multiple ways with which freelance marketplaces like Fiverr generate money and most common revenue sources:
Fees from Buyer: Freelance marketplace charges $0.50 for purchases upto $10, and for purchases above $10, the marketplace charges 10% of the initial price from buyers.
Promoted Profiles/Job: Fiverr-like platform generates money from promoted profiles and jobs similar to in-app promotions.
Fees from Seller: This is one of the most common practices of generating revenue on a freelance marketplace like Fiverr. Most freelance platforms charge a 20 percent commission from sellers.
Initial deposit: Many freelance marketplaces charge initial deposits from employers, and at any time, employers can cancel the plan and ask for refunds.
Processing fees: Whenever a successful transaction takes place, most of the platform charges a processing fee of 2.75% from employers.
Subscriptions: Freelance marketplace offers subscription plans such as free, pro, and enterprise depending on how frequently an employer hires freelancers.
Salient Features of Freelance Marketplace Like Fiverr
Easy registration process: An easy and fast registration process ensures that freelancers and employers can join the platform without hassle.
Account Verification: This is a must-have feature to ensure the authentication of users who wish to register with the platform.
Freelancer Dashboard: Here, the employer can view a freelancer's information, such as skills, location, qualifications, work experience, and other things.
Employer Dashboard: Here, an employer can view details such as running project, history, project progress, edit account details, send and receive messages.
Advanced Search Filter: Advanced search filters allow employers to find the right freelancers and freelancers to find the right jobs without any difficulty.
Time tracking is a vital feature for a freelance marketplace as it allows freelancers to evaluate and provide employers with work status and results.
Messaging provides 24/7 communication between employers and freelancers.
Payment functionality handles all transactions between freelancers and employers.
Ratings and reviews provide employers with information on freelancers based on their output, such as overall satisfaction rate, etc.
Wrapping Up
Now we have come to the wrapping up part of how to create a freelance marketplace like Fiverr. With the right clone app development company, the development and launching of a freelance marketplace is not a difficult task. Discuss your platform functionality and features with the development experts for smooth completion of the process. With all the information we have provided above, we hope to have answered all your queries.