Everything you Need to Know about SharePoint Online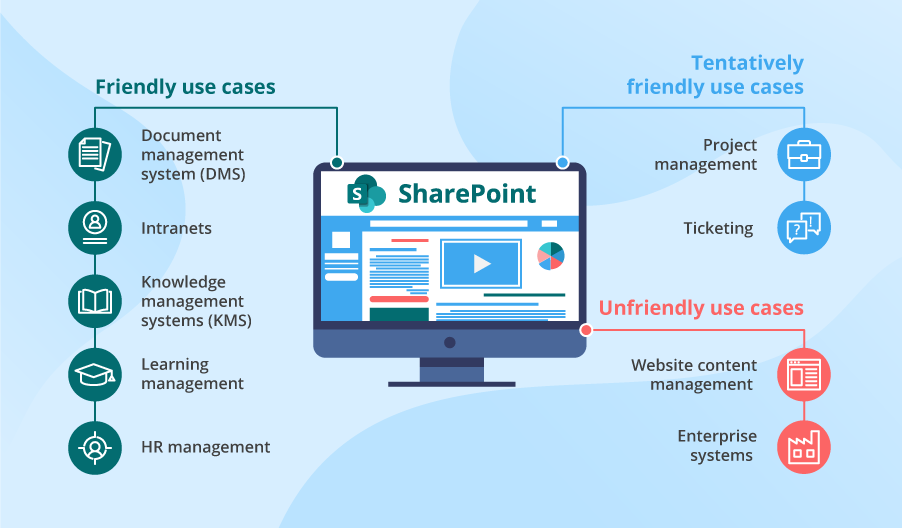 Sharing is caring, they say. Well, it's kind of true because if both companies and single users allow each other to share relevant data then only they can get benefitted mutually. The speed of the file-sharing process is also as important as the need for information sharing in this digital age. Nobody likes to wait around.
Therefore, Microsoft came up with cloud services solutions like OneDrive and SharePoint online where you can store your files instead of your traditional server. So, in this blog, we are going to look at one such solution – Microsoft Office SharePoint. We will discuss what is SharePoint, how to build it, where you can use it, and how.
What is Microsoft SharePoint?
Microsoft SharePoint is a collaboration platform built to share files and edit them simultaneously. While the file is being shared using traditional sharing features and SMB (CIFS) protocol, it allows only one user to edit the file at a time. If a file is shared using SMB and it is opened by a user then other users can only have access to the copy of this file at that time. Even if a user makes any changes in the file then other users won't be able to see them at that time in the copy. They can only see it if they reopen the original file after the first user has saved the changes and closed the file. At the same time, if other users are going through the copy of the file and want to make changes, they can save their changes in the copy and keep it with them.
Now every copy of the file can have unique changes then it will be quite difficult to combine them all into a single file. In the terms of a collaboration intensive process, the scenario where multiple users have edited the same file simultaneously is not a convenient approach. Hence, Microsoft developed SharePoint to fix this problem and now it allows all the users to edit a shared file and save all the changes in it.
What Is Microsoft SharePoint Used for?
Companies use Microsoft SharePoint as a data-sharing platform across the organization, build websites and content libraries, organize content, share and manage files, promote team collaboration and automate business processes. It is proven that SharePoint enhances the efficiency of teamwork. Generally, medium and large size corporations that have more than a hundred users use SharePoint. With an increasing number of users, traditional server files proved to have insufficient functionality. That's where SharePoint comes right in. And believe me, there are multiple methods of developing SharePoint that developers and businesses around the world can leverage to create or manage a data storage system and many more.
What Is Microsoft SharePoint Online?
SharePoint Online is a cloud-based version of Microsoft SharePoint. Launched in 2001, this platform is also an integral part of the Microsoft Office 365 suite. To use this platform, you have to manually deploy a SharePoint server and then support a standalone SharePoint server, related storage, install security patches, active directory, and more. If your SharePoint server is hosted locally then it remains completely autonomous and fully under your control.
SharePoint Online is also popularly known as Sharepoint 365. If you are using it then all the software-related updates will be automatically installed on the Microsoft datacenter as soon as they are released. Microsoft covers all the maintenance and support-related tasks. Companies have to pay for Microsoft 365 subscription every month which includes SharePoint Online. Once you have done it, you can have access to a SharePoint portal from anywhere in the world with an internet connection.
How Does Microsoft Office SharePoint Work?
As discussed, Microsoft Office SharePoint is a collaboration and document management software. You can either install it on a Windows server on-premises or you can run it on one of the Microsoft data centers in the cloud as a part of Microsoft Office 365. Now, we are going to discuss some of the core components of SharePoint. SharePoint is a web portal and a collaborative platform where you can store files and share important documents with other members of your team. A team site and a communication site are the two types of SharePoint sites.
A team site is used to connect the team with content by doing some operations like adding web pages, creating libraries to store files, customizing web elements and lists to manage the data. Whereas you can use a communication site to share information with others. You can also use it to broadcast your message to a specific group of audience. Users can leverage a SharePoint library on a site to create, update, upload and collaborate on files with other users from your team. If the change is made in the files by any user then the information related to the changes and who made them are displayed in a SharePoint library. The data is collected intentionally from the site by the users and is well-organized flexibly using a SharePoint list.
They can also customize it by adding columns to show various kinds of data for the storage files such as date, time, currency, text, and so on. These lists are used by companies to sort, organize and filter the data in many ways. It also helps users to track versions and alter the history of the shared files. If ASP.NET technology is used with IIS then some sites are generated automatically as a result. They are considered SharePoint. The content of these websites is stored in an MS SQL database from where it can easily interact with other apps and similar platforms like MS Exchange and MS Project. web servers, application servers, and database servers were the three types of server roles used traditionally.
One can also look at SharePoint and say that it is a content management system where you can store content in different kinds of logical blocks. And if that's true then the largest block would be the SharePoint site collection which is related to the site home page URL and a web app on an IIS server. The site collection means it consists of multiple websites. So the user must understand the structure of these SharePoint sites if they want to name the right URL related to the DNS names of a SharePoint portal. The permissions from the parent objects are affected by the logical structure here as same as it was affecting the traditional file systems. To access any object on the website, you need to apply permission set to a group on a root site level to the structure.
Features of SharePoint Online
Make your life easier with some of the most useful features provided by Sharepoint Online. If you feel interested then let's take a walk down the road.
File versioning
If you want to restore the previous versions of your documents that are stored in the lists or library after the changes are made then this is a great feature that can help you with it. File versioning helps track change history, view previous versions of a file, and restore them if you feel the changes are unnecessary in the file.
Indexing
This is one useful feature for a fast and precise search for a file. It enables you to have easy access to the files. Using Microsoft Search, you can quickly get any information you need. The indexing process means scanning all the files on your website, sorting them, and integrating the results with the search database. So whenever a user enters a search query, it will be faster to search in the indexed search database than to search entire file storage.
Windows integration
Windows integration is one of the new features. It allows you to integrate your SharePoint Online with on-premise servers running Windows servers. You can map SharePoint Online to configure Windows 10 drive too.
Web browsers support
Only the Standalone Microsoft Office apps and popular web browsers allow you to get access to SharePoint sites. It is also accessed through smartphones using the mobile versions of the web browsers.
Integration with OneDrive for Business
Do you want to get started to copy files from OneDrive to SharePoint Online and vice versa? If yes then this is the right feature for you. It is made possible in OneDrive for Business as SharePoint Online uses its sync agent functionality. This also gives you a chance of creating a unified Microsoft Office ecosystem where Microsoft 365 products like Word Excel and Exchange online are integrated.
Permissions management
Now you can configure the access to shared document libraries using the permission management feature. It enables you to grant access to specific users while restricting others. You can also set permissions for the group of users. For example, one group of users can write the changes to a shared file whereas the users from another group can open the files which to them will be in a read-only mode.
Governance
If your company has to work with some sensitive or confidential information that you had to protect then you must configure data governance policies. You can get enough help for that from the data governance tools of Office 365.
Secure storage for documents
When a file is stored in the Microsoft cloud, it has to be encrypted. That is crucial when the network connections try to access the files in SharePoint Online. Your Microsoft Office 365 account allows you to configure two-factor authentication.
Management with PowerShell
This advanced feature enables you to imply automation in SharePoint Online. Create scripts using the Powershell for SharePoint Online and then run them in the command-line interface to automate repetitive tasks.
SharePoint Deployment Options
There are three options available if you want to deploy Sharepoint. They are as discussed below:
SharePoint on-premises
This is a standalone version of the Microsoft Sharepoint server like SharePoint 2019, SharePoint 2016, and more. You have to install them in the physical servers or virtual machines at your office or data center. Doing it will grant you complete control over SharePoint inside your company.
SharePoint Online
As we discussed earlier, SharePoint Online is a cloud-based version of Microsoft SharePoint. You don't have to install anything over here. You just need to buy an appropriate Office 365 subscription plan that can be used for the betterment of your business.
SharePoint Hybrid
This is a combined solution where both previous deployment options are used. Both Local on-premise, as well as Cloud SharePoint environments, are used at the same time to share and integrate the business data.
SharePoint Licensing
Yes, all of this sounds good but what about the price? The best stuff comes at a considerably high price you might think. Well, let us have a look at the prices for online and on-premise versions of the Microsoft SharePoint and decide whether it is feasible for your budget or not.
SharePoint Online uses a per-user subscription model.
SharePoint Online Plan 1: $5 per user/month
SharePoint Online Plan 2: $10 per user/month
Office 365 E3: $20 per user/month
A client access license (CAL) model is used for the on-premises version of SharePoint. Each SharePoint user needs one CAL.
SharePoint Standard CAL: $180 per license
SharePoint Enterprise CAL: $180 per license (one-time purchase)
SharePoint Server license: $5,000 per server (per VM)
SharePoint Foundation license: Free
You may also need to buy MS SQL Server licenses.
Conclusion:
In this blog, we discussed Microsoft Office SharePoint, how it works, the main features of SharePoint Online, its prices, and various SharePoint deployment options. And to cut it short, SharePoint is a platform that allows you to share documents and multiple users can edit the shared documents simultaneously. SharePoint is supported by various operating systems, you just need a web interface to get access to use Microsoft SharePoint. You can also edit your documents in a web browser even if you haven't installed Microsoft 365 on your devices. All you have to do is to buy an appropriate subscription plan to use it.
SharePoint Online is part of the Office 365 SaaS platform so once you buy it, you don't need to install it or configure the Microsoft SharePoint server in a local environment. SharePoint has got you covered for all your data back up. Still, many SharePoint vendors suggest performing backups of Sharepoint data just in case. So there are many solutions out there that help you support the data backup of SharePoint Server and SharePoint Online in addition to your other Microsoft 365 data. I hope you have enjoyed reading this article. Tell me which aspect of SharePoint interests you the most and if you want to know more on the same.