Core Web Vitals SEO: Prepare Your Business for New Ranking Factor with These Tips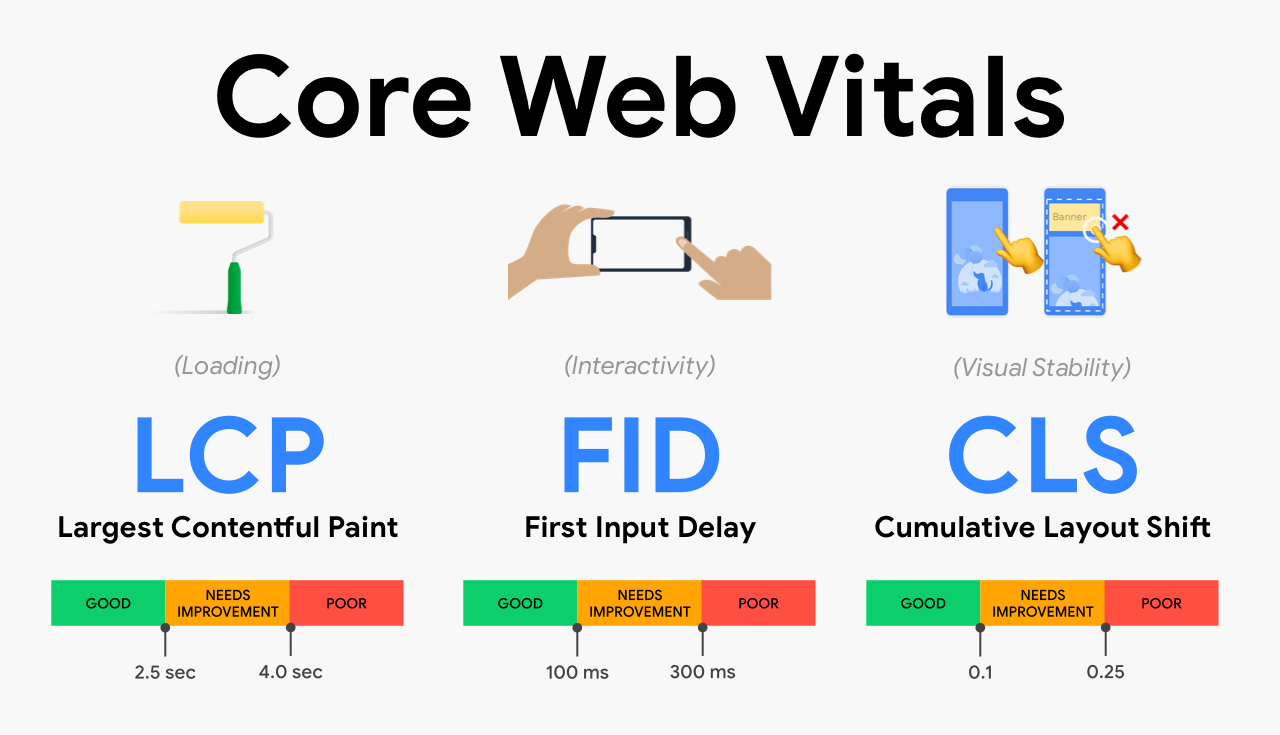 Google always prioritizes the user experience more than anything, and to hone the user's browsing experience; they regularly update their algorithms. Google has more than 200 ranking factors that they use to analyze the available results and assign them rankings to bestow the excellent browning experience.
Google announced a new ranking factor, i.e., Core Web Vitals, to be launched in May 2021. But, it is delayed and most probably roll out from mid-June 2021. Every time Google rolls out an algorithm update or defines new ranking factors, the rankings of online businesses get affected. Hence, it is crucial for you to be ready for this ranking factor to hold on to your rankings and do a profitable business.
Moreover, if you don't have rankings currently, then you can update your website to replace the first-page rankers who don't meet the standard of the ranking factor. Let's know about Core Web Vitals and how you should optimize your online business website.
What are Core Web Vitals?
Core web vitals are the factors that will be used to analyze the page experience of websites. Earlier, Google was using below page experience factors to scale your website or web pages.
Mobile Experience
Safe Browsing
HTTPS
Non Intrusive Interstitials
Now, three factors of core web vitals will be added to the list to further promote the user experience to the website owners. Here are the three factors of core web vitals.
LCP (Largest Contentful Paint): It is the time from the click to the loading of most content of your website's viewport. LCP should be less than 2.5 seconds. Hence, it shows the loading time of your website from the user's point of view. The faster your website loads, the better.
FID (First Input Delay): It is how fast your website becomes ready for user interaction like click, form submission, and other actions. It should be less than 100ms.
CLS (Cumulative Layout Shift): CLS tracks the visual stability of your website. Visual stability means the minimum movement of your page elements when the page loads. It should be less than 0.1.
Tips to Improve Core Web Vitals Scores and Page Experience
Here is how you have to optimize your website to get the best core web vitals scores and rank well. You can use the Google Search Console or PageSpeed Insights to check your website's core web vitals score.
1. Preload the Key Resources or LCP Elements
LCP is the time your website takes to load the first-fold content after the click. Now, you have to analyze how your page loads to find the LCP elements and prioritize their loading to improve the loading speed and LCP score. You may right-click and inspect the webpage. Hereafter, go to the Performance tab to see the load chart. Always check the screenshot button to see the progressive loading of your page at different times.
2. Minimize the Long Tasks
Long tasks are mainly responsible for your site being unresponsive for a significant time. It affects the FID of your site and kills the user experience. This happens mostly because of JavaScript. Here is what you can do. You may prioritize the main activities for interactiveness of the site and delay the loading of JavaScripts initially to fasten the process. You may inspect your webpage and check out the long tasks from the performance tab.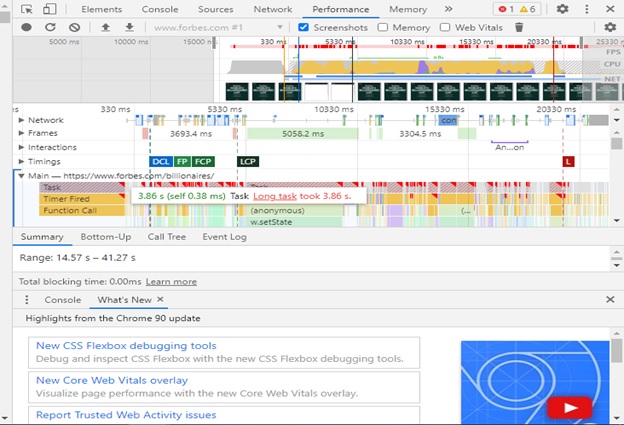 Make sure only essential components render first to improve the FID score of your website. Alongside minimizing the JavaScripts, you may remove unimportant third-party scripts and use browser cache to aid the interactivity of your business website.
3. Define Space for Images and Other Resources
CLS scales the visual stability of the site. Many times, when we access any site, the components move around randomly. You try to click something, and it changes its position suddenly, and you end up clicking somewhere else. It's frustrating for users and spoils the user experience. Mostly, it happens when you have no defined image dimensions, and they load randomly, moving the other elements.
Hence, reserve space for your images, infographics, videos, GIFs, and other resources, so they don't do any sudden layout shifts. Moreover, you may design the fixed dimensions of the ads element as well, so they don't jumble around the webpage.
4. Hone Your Mobile-Friendliness
It is one of the significant page experience signals that you must ponder. The majority of people use mobile, and it's crucial for online businesses to serve well on the mobile to earn online sales. Your website looks and works perfectly on smartphones with any zoom-in or zoom-out.
You may check the mobile usability report in the Google search console to check the mobile issues on your site. Or you can use Google's Mobile-Friendly Test Tool to find the potential mobile issues on your site.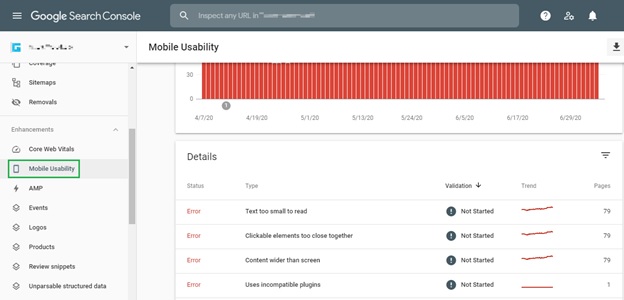 Once you have mobile usability errors, you can optimize them to stimulate the seamless mobile user experience. Moreover, you may consider the responsive web design to make your site appear and function appropriately on different device sizes.
5. Audit Site Security and Resolve Issues
Google is highly concerned about the security of its users. Hence, your website browsing should be completely safe and secure for the users to bestow the up to the mark user experience.
Malware, unwanted software, cyber attacks, phishing, deceptive content, etc., affect the website's security and reduces your authority and rankings in search results. You can use the Google Search Console tool to audit your website's security issues and resolve them for being a user-friendly site or business.
6. Incorporate SSL Certificate to Secure Connection
It is another way of ensuring safe browsing for the users. The previous point focuses on website security, but when users request your site over the web, a connection is formed between browser and server. If this connection is unprotected, then users' data and privacy are vulnerable to several factors. To secure the connection SSL certificate is required. The SSL certificate secures the connection and makes browsing safe.
The sites with SSL certificates have HTTPS in their URL, and it shows a secure connection. When you don't have SSL, the site URL has HTTP, which is not secure. Even search engines show the below warning when you try to access a site with no secure connection. Hence, get an SSL certificate for your site to ensure safe browsing and improve your website experience.
7. Keep Your Interstitials and Pop-ups From Being Frustrating
It's fine to use the interstitials or pop-ups, but these shouldn't obstruct the content. When users can't access the content due to pop-ups, then it kills the user experience. Some websites don't even allow the users to close the pop-up manually, and users have to take a particular action on the interstitials to access the content.
It's unethical, and Google strictly prohibits such practices. If you are using pop-ups on your site, test it on different devices to ensure it doesn't spoil the user experience. It should be like a user can access the crucial content regardless of the interstitials.
That's it!
These are some effective tips for your business SEO and optimization. When you execute all the above action points, you'll have the best user experience on your site, which helps you get more sales and rankings. Moreover, you'll get good core web vitals scores, and your business will not be affected by the upcoming ranking factor. So, work on all these tips, or you may hire a digital marketing agency to manage your online business marketing and make your website rank top to get profitable business.
Author Bio:
Gajendra Singh Rathore is a digital marketing expert and associated with a digital marketing agency in Toronto. He is always eager to learn, experiment, and implement. Astronomy is his escape from the outside world.