6 Tech Tools Every Content Creator Should Invest In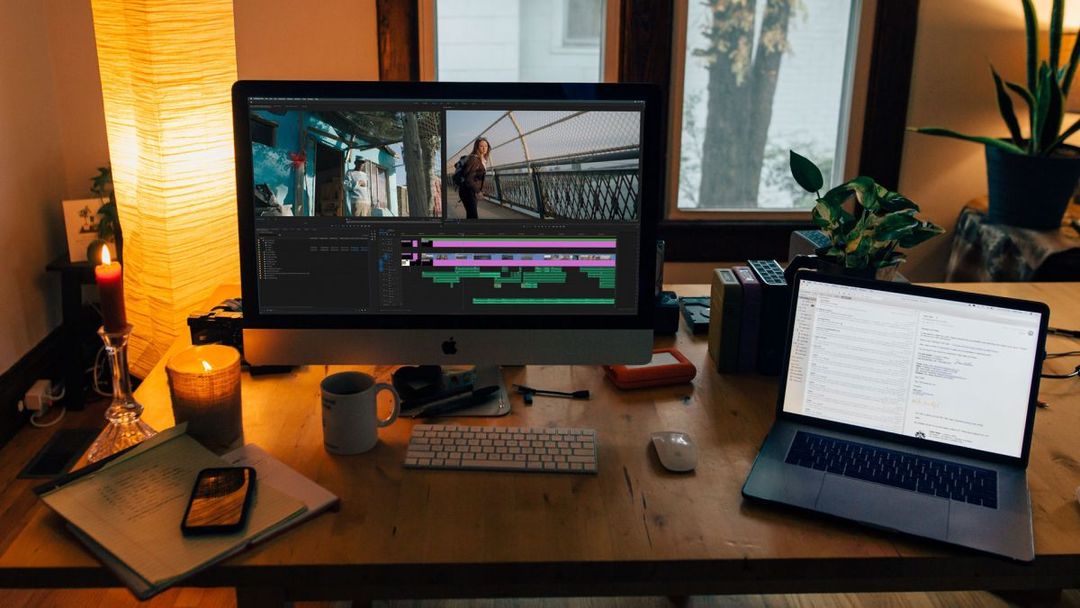 Whether creating social media posts, YouTube promo videos, or running a podcast from your professional home studio, investing in the right tech tools can make your life easier. The right production tools can help you polish your work and take it to the next level. As a content creator, it's up to you to create the magic that doesn't just help a business; it can also beef up your reputation.
Here's a list of must-have tech tools to help you add quality to your content and smooth out your operation.
1. A Better Laptop or Desktop Computer
You can't just use any laptop or desktop computer to create quality content. You'll need a laptop or desktop computer with the latest hardware, features, and the ability to support high-end software. Choose one that can run the best video editing software or audio recording programs. For instance, if you like to work on a laptop, you can't go wrong with a MacBook Pro with an M1 or M2 processor and 64GB RAM. And if you're working on the go, MacBook Pros have long battery life.
Of course, you can't forget about the display, especially if you create and edit videos. Many of the best Mac laptops have superior color-accurate displays and bright screens ideal for editing videos in Premiere Pro or Final Cut Pro. Many content creators also prefer desktop computers and working on larger screens. If you fall into that category, an Apple iMac may be the right choice. The iMac (24-inch 2021) rates high thanks to its excellent 24-inch, 4.5K retina display, 7- or 8-core GPU processor, and up to 2B storage capacity.
2. External Hard Drives
Backing up files is a tedious process, but content creators know the importance of it to avoid the disaster of losing valuable creative work and footage. Fortunately, external hard drives can come to the rescue. An external hard drive for Mac or PCs can keep you from having to back up files and give you the extra storage necessary for your content. Plus, the added mobility allows you to take your files anywhere to share with clients or work on the go.
External hard drives for Mac or PCs vary. It's a good idea to do some research so that you can choose one with the storage capacity, drive speed, durability, and physical size that meets your needs.
3. RAM Upgrades For Mac or PCs
As a content creator, you'll need plenty of memory to use complex software and render large files. Video editing software uses lots of RAM, and it often requires more than what standard computers come with. As such, editing a video on a computer with minimal memory will test your patience. Do you want to deal with computer crashes and frozen screens? Of course not. The solution: RAM upgrades for Mac and PCs will allow you to enjoy a smoother video editing experience.
4. Professional Video Editing Software
Investing in the latest video editing software can help you create slick, professional-looking footage. If you know the ins and outs of video editing software, you can transform raw footage into a stunning piece of work. Of course, most professional video editing software isn't cheap. And if you're a newbie, it will take some time to get to a level where you're comfortable with your editing skills.
Video editing software is a must-have tech tool. Here are a few to consider:
Final Cut Pro: If you work on a Mac, invest in Final Cut Pro. It's an industry standard used by movie and TV professionals. And since it's Apple software, it's optimized to get the most out of your Mac. It works seamlessly with your iTunes or Photo collections. Once you get the hang of it, the Magnetic Timeline saves you a massive amount of editing time by "magnetically" adjusting clips to fit around clips that you drag into place. Multi-cam editing, 360+ HDR features, strong organizational tools, and advanced color correction features put it at the top of the video editing software list for Mac users.
Adobe Premiere Pro: Premiere Pro is one of the industry standards for video editing. Professionals use it to create everything from major motion pictures to YouTube videos and animation. Premiere can divide everything into separate workspaces, such as audio, editing, and effects. Doing this can enhance your productivity and help you manage a specific task. This software supports 4K, 8K, and VR formats. It has the trimming and editing tools required to give you the precision and control you want to make your videos stand out.
5. Video And Audio Capture Devices
A digital camera is a must-have tech tool for content creators. A DSLR camera captures objects with crystal-clear detail for professional-quality videos and photos. You can switch out lenses to create different effects ideal for fashion, architecture, and landscape photo shoots. It's a bright idea to stock up on SD cards so you won't have to worry about running out of storage while capturing content.
If you're a podcaster or do voice-overs, you want your listeners to hear your voice clearly. Add a noise-canceling microphone to your tech toolkit. Noise-canceling microphones remove background noise that can distract listeners.
6. Good-Quality Smartphone
Not all smartphones are created equal, especially if you're an influencer that needs to maintain an active presence on social media. A professional Instagrammer, vlogger, or YouTuber needs a smartphone with plenty of RAM and a powerful processor. Of course, you'll also want a smartphone with long battery life. Smartphones come in handy when you're out and about, live streaming, or doing an impromptu photoshoot.
The Wrap-Up
As a content creator, you will make many videos, take pictures, and record audio. Investing in these tech tools can help you produce high-quality content that looks and sounds professional, even if you've only just begun to dip your toes in the content creator journey!
Author Bio:
Jon Hoeg is a screenwriter, film director, and photographer with over thirteen years of professional experience within the entertainment industry. He has directed music videos for artists such as Lolawolf, Kaneholler, and Phoebe Ryan, and he has worked with brands such as Rebook, Sony, Nike, H&M, and many more. He currently lives in Venice, CA.