Top 8 Web Design Tips to Get an Ideal Website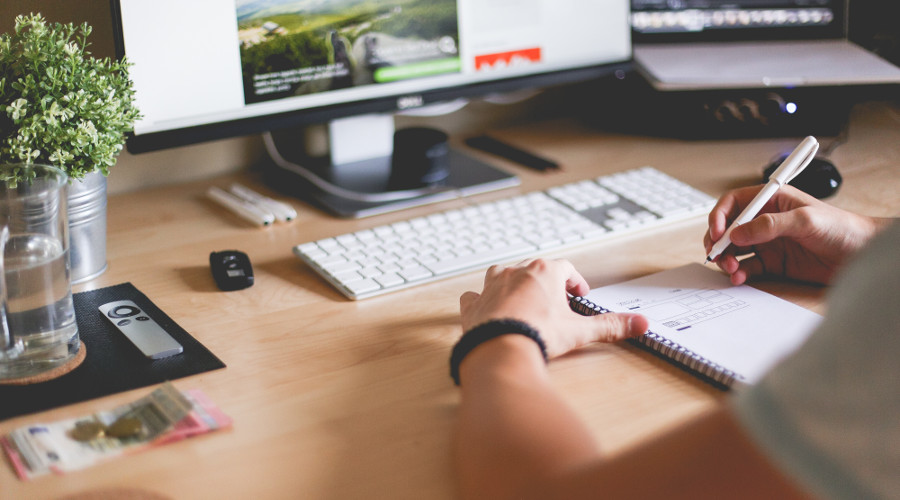 An impressive website with a modern design and intuitive graphics is likely to attract more online visitors compared to a dull or outdated website. If you want to gain profits and leads in a shorter time, it's important to bring your business online with a lead converting site focused on innovative web design.
Majority of the audience takes only 0.05 seconds to form an opinion about a website, just after viewing it for a while. To your surprise, it is a web design that plays a vital role in attracting the potential audience and credibly helps in bringing more conversions. With the online survival competition becoming more and tougher, getting a web design optimized for UX will play a detrimental role in your success.
When it comes to designing an innovative website, here are some best practices you should follow:
1. Less Text, More Graphics
No matter, you are writing a blog post or a landing page, stop filling your webpages with so much text. Only 1 in 10 site visitors read that tit-bit of content you post; others just shuffle through the headlines. Moreover, tons of text on a webpage can make it look less appealing and more congested.
By embedding unique images and bold graphics, get ready to compel the online audience to stay on your website and keep coming again.
2. Minimalistic & Clean Design
If you are a beginner web designer, there are chances that you might end up ruining the looks of a website with a more cluttered design with inconsistent elements. Instead of distracting a visitor with a lot of unrealistic features, try including only the necessary elements that lessen the clutter and results in clean web design.
Focus on white space to design a visually appealing website that your visitors would prefer to stay on for longer.
3. Give Preference to Visual Hierarchy
When it comes to creating a visually impressive web layout, consistency or hierarchy is often ignored. Hierarchy plays a significant role in reducing the negative space, thereby making your website look a lot more appealing. The way an element is placed on the landing page determines what impact your site is going to make on the online visitors.
According to our web designers, one of the best practices is to focus on the placement of the elements based on how you want to connect with the potential audience. By featuring a big, bold title at the top and other legal information and links at the bottom, create a hierarchy based on priority.
4. Simplify the Navigation Bar
A website is of no use if it doesn't have the essential menus and content a visitor is looking for. Whether you are designing an eStore or a web layout, indulge customers in making a purchase by providing a simplified and standard format of navigation. In no way, it should be difficult for a visitor to look for what they're looking for on your site.
More the options on the navigation, the longer will it take to make a decision. Try limiting the navigation options to avoid confusing your audience in making the right choice. This will eventually increase the rate of conversion up to ten times.
5. Use Short Sentences & Paragraphs
Clutter, in both contexts, i.e. stuffed content and unnecessary graphics make it hard for a user to browse through the different sections of a website. By bombarding the screen with content, readers won't be able to digest what you are actually trying to depict. Moreover, longer paragraphs make scrolling a little confusing.
The best option is to eliminate the unnecessary text on the webpage, which in turn reduces clutter and helps in putting more emphasis on the unique elements you want users to focus on.
6. Optimize Design for Mobile Devices
Around 80% of websites developed are viewed more on mobile devices and tablets as compared to laptops. No matter, what type of audience you have, it is important to get a website and web design layout optimized for a mobile device. A poorly optimized website can take the customers away from your business.
To earn more conversions and leads, focus on getting mobile-optimized websites with a clean and clutter-free user interface. Before making it live, check whether it runs perfectly on all screen sizes or not.
7. Embed Visual Cues & Signs
No matter, what type of layout you are designing and for whom, focus on creating a web design that is user guiding. This can be done by embedding some impressive graphics that direct the users in going on a way they want to. Visual cues not only make a website appear more user-oriented but also helps in bringing the user attention towards an element they are interested in.
Take advantage of the fact that eyes are more attracted towards bright and innovative graphics compared to monotonous content. Embed more visual cues, arrows, and other signs to grab more customers.
8. Social Share & Follow Buttons
A web design that allows users to connect socially empowers more clicks and conversions. Making your business website accessible on the leading social platforms helps in getting more attention and global reach. To get the most of the social traffic, consider including social share button today. This will encourage your clients to stay in touch with you even when they are browsing on a social media platform.
So, you are done with the most impressive web design trends that play a vital role in designing a lead converting website that can surely beat your competitors in the online race of reputation and profits. Apart from these tricks, there are several other points you should keep in mind such as typography, color schemes, call-to-actions, 404 error pages and more.
No matter, which business you own if you are going to get a web layout designed for a website sooner or later, don't forget to follow these up-to-date tricks and tips discussed here.
Author Bio:
I am experienced in the all spheres of Web Design, SEO, WordPress and Website development. Currently, I am working at MediaLabz in Calgary, which is a Web Design Calgary based company. I love to share and learn new things, and this website is the best platform to gain WordPress, Web Design, Seo, Website Development knowledge.