Product Reviews – The Game Changer For Your Business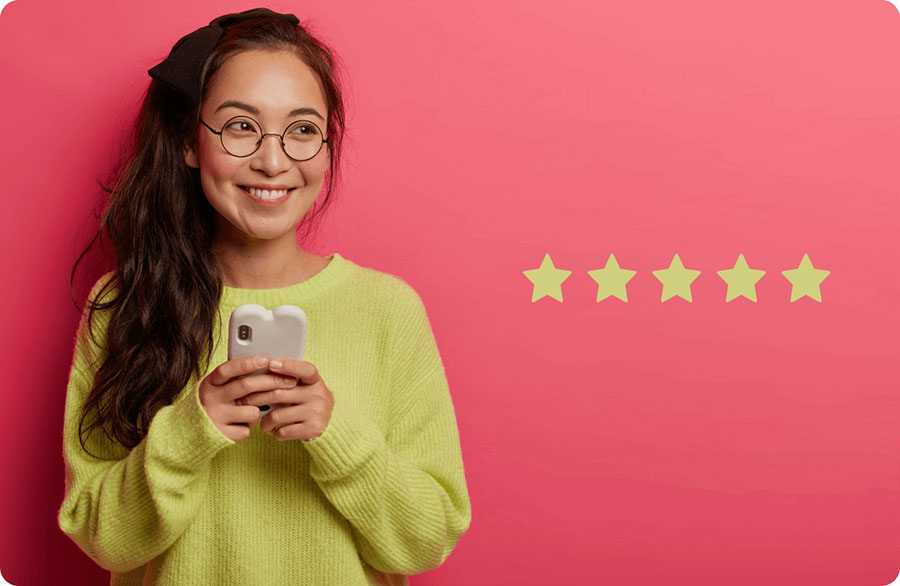 Think of yourself as a customer.
When was the last time you purchased a product without having a glance over its reviews?
Never. Right?
Even as a business owner, you know that your product's fate is determined by the reviews and ratings it receives. Product reviews are a powerful tool for businesses to improve their online presence and increase sales. In today's world, where consumers have access to a plethora of options, they have very few reasons to come back to you.
In such a case, product reviews can be a game-changer for your business. In fact, before purchasing, the majority of your customers consult the product reviews platform to check the authenticity of your products. Reviews are a great way for customers to share their experience with your product and help others make informed decisions. In this blog, we will shed light on the importance of product reviews for your business and some sleek strategies to get more product reviews for your business. Hang tight and read on.
Advantages of Product Reviews you Should Know in 2023
Product reviews are the social proof that your business needs. Sometimes, your customers will go out of their way to know more about the products; which explains why you need to be active on different product review platforms. However, social proof is not the only advantage of the product. Have a look to know more about it.
1. Increased Credibility
Product reviews provide social proof and can be a significant factor in the decision-making process for potential customers. When considering purchasing a product, they often look for reviews to see what others have experienced. Positive reviews can help to establish credibility for your business and product, which can lead to more sales.
Reviews enable you to build trust with your customers. When you respond to reviews, it shows that you care about your customers and are committed to providing them with the best possible experience. This will help you to increase loyalty and repeat business.
2. Improved Search Engine Optimization
Product reviews can also have a positive impact on your search engine optimization (SEO). Search engines like Google and Bing use various factors to determine a website's relevance and authority. The quality and relevance of the reviews are important factors. When you have a lot of positive reviews, search engines see this as a signal that your business is trustworthy and authoritative. This can lead to higher rankings in search results, resulting in increased visibility and traffic to your website.
3. Valuable Feedback
Product reviews provide valuable feedback that can help you improve your products and services. When customers leave reviews, they often provide detailed feedback on what they liked and didn't like about the product. This feedback can be used to make improvements to the product, which can lead to increased customer satisfaction and sales.
Reviews can provide insights into customer preferences and trends. By analyzing the feedback provided in your thoughts, you can gain a better understanding of what your customers want and how to meet their needs.
4. Increased Sales
Positive reviews can be a powerful driver of sales. When potential customers see that others have had a positive experience with your product, they are more likely to make a purchase. According to a study by BrightLocal, 85% of consumers trust online reviews as much as personal recommendations.
Reviews can help to reduce the number of returns or refunds. When customers have a good understanding of what to expect from the product, they are less likely to be disappointed and more likely to be satisfied with their purchase.
5. Competitive Advantage
Product reviews can give you a competitive advantage over other businesses in your industry. When you have a lot of positive reviews, it sets you apart from your competitors and can be a significant factor in the decision-making process for potential customers. In addition, reviews can help to differentiate your product from others in your category. When customers see that your product has unique features or benefits, they may be more likely to choose your product over others.
6. Improved Customer Engagement
In case you are not aware, you should know that your product reviews can also help to improve customer engagement. Responding to reviews shows that you are listening to your customers and value their feedback. This will lead to increased customer loyalty and advocacy.
Moreover, reviews can provide opportunities for you to engage with customers and provide additional information or resources. For example, if a customer leaves a review with a question about the product, you can respond with additional information or a link to a helpful resource. Now that you are fully aware of the advantages of product reviews, let's have a look at how to get more product reviews.
Advance Guide To Getting More Product Reviews For Your Business
Product reviews are one of the strongest tools in your marketing arsenal. Product reviews won't cost you money and cannot be achieved with money either. Therefore, it can be a difficult road ahead. But, we are here to make your journey even smoother.
A. Reduce The Friction
Friction points in your marketing can become an obstacle to your marketing. The more smooth pathway you create, the better relationship you will establish with your customers. On the other hand, the more friction they will face, the more often they will walk away from you.
As a business owner, if you want your customers to leave reviews and feedback for your business, you will have to create an easy road for them. Include maximum product review platforms, so that your customers leave their feedback on the platform they are most comfortable with.
B. Ask For Reviews At The Right Time
Asking for reviews at the right is one of the most important factors. You want to receive feedback when your customers are happiest and most satisfied with your product. If you miss the chance, their ecstasy will decline with time. And chances are they might not be interested in talking about your product. Therefore, it is equally important for you to determine the right time to ask for reviews.
C. Prominently Display Your Reviews
You get reviews. You now have the badge of honor. Often most of your reviews are right in front of your product page. This helps your prospective customers quickly locate your product reviews and make their decisions about your product. However, you can also make your reviews universal. As a business owner, you can allow your customer to leave reviews on Google. To make this step even more effective, you can embed Google reviews on websites. This will be your social proof as well as enticing your other customers to leave feedback on different product review platforms including Google Reviews.
D. Talk About Product Reviews On Social Media
Social media is yet another great place to talk about reviews with your customers. However, this will require you to have a strong presence on all social media platforms. Once you have a strong presence across all channels, you can ask your followers to try your products and leave feedback for you on different product review platforms.
Parting Note
Product reviews are a part of your marketing strategy. This will help you to introduce our product to a newer set of customers. When your customers see more reviews of your product, they see it as a safe bet to play. If you are a product-based company, you have to be active on different product reviews platform. So go ahead and get going.