KuCoin Exchange's Burning Drop: Your Wild Card Entry to Promising Blockchain Projects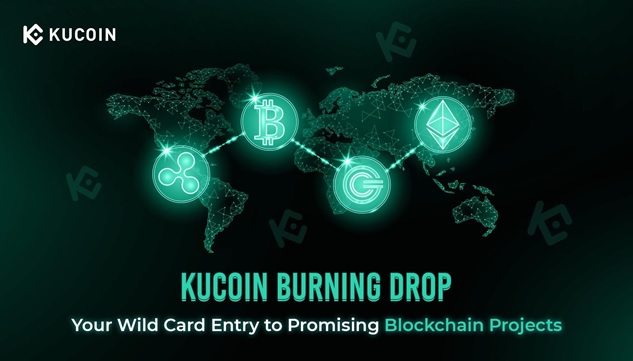 KuCoin Exchange is one of the world's top cryptocurrency exchanges to offer P2P spot trading, futures trading, lending, and staking. A component native to KuCoin is that it is an exclusive platform for niche and new project coins. Keeping in line with this feature, KuCoin Exchange occasionally holds IEOs through its product – Spotlight. This is one of the ways in which traders can acquire tokens for new projects. However, with KuCoin, you don't just get one option!
Another way to obtain new project tokens on the KuCoin crypto exchange is by participating in BurningDrop. This is a step up from the more common token distribution mechanism – lock drop. BurningDrop allows users to become long-term. investors of a project through mining, unlike most ICO's. As an extended feature of Pool-X, BurningDrop supports staking, trading of staked coins, and mining. Visitors who wish to participate in BurningDrop can access it through Pool-X Earn in the Finance option on KuCoin Exchange.
What is Pool-X BurningDrop?
In the case of Lockdrops, participants need to lock their tokens in a smart contract for a specific time to receive a new project token. The locked tokens are returned after the given tenure. The general idea is to lock existing tokens for a more extended period to obtain new tokens. Lockdrop was a step-up from airdrops where new tokens would be randomly sent to users' addresses, exposing the tokens to unregulated pumps and dumps.
KuCoin BurningDrop is definitely an upgrade for the better. It introduces a feature to filter out the long-term investors from the speculators. Participants can show their interest by burning POLs, which is the Pool-X native token. In other words, KuCoin Exchange, through its BurningDrop mechanism, introduces a better way for new projects to discover a community that is invested in them. Any project looking forward to distributing its initial tokens without raising funds can partner with BurningDrop to find a dedicated set of investors. The token distribution supports three chains to ensure that user acquisition occurs from a wide range of crypto holders. These are BTC, ATOM and ethereum code.
Reliability Test of Pool-X Burning Drop Projects
A primary reason behind KuCoin Exchange's success is a dedicated team that looks after the platform's integrity round-the-clock. Spotlight, for instance, follows a robust vetting process before deciding on whether a project would be listed. BurningDrop projects go through a similar assessment that is run before tokens get listed. This includes the following factors:
Projects should display an ability to add something valuable to broaden the development of the crypto ecosystem.
A solid and committed team should back projects.
The selling points of the token must be unique.
Project tokens must anticipate large-scale adoption readiness.
When a project makes it through the selection process, it is then featured in Pool-X BurningDrop.
Ongoing BurningDrop Project
Infinite Launch (ILA) was the latest project featured on BurningDrop. It is expected to be a cross-chain launchpad for NFT/Gamefi projects. A unique feature of Infinite Launch is that participants/interested investors would get guaranteed allocation in the projects' IDO's irrespective of factors like resources. Commensurate with BurningDrop's primary criteria for featuring new projects, Infinite Launch (ILA) offers a unique opportunity for NFT holders to benefit from the developing metaverse directly.
Things to remember before participating in BurningDrops
Users interested in participating in a project's token distribution must keep an eye out for announcements on new listings on the Pool-X page. Things to look out for includes:
Subscription period between which the staking can be done.
Assets were available for staking.
Burning acceleration period where users can burn POLs to enjoy more rewards from the project.
Staking period.
Issue price and its worth in USDT.
The total number of tokens available for distribution.
How to use BurningDrop?
BurningDrop is a feature of KuCoin Exchange's Pool-X function, which is dedicated to stakers. Visitors can access the Pool-X page through the "Finance" tab on the official site. On Pool-X's homepage, users will find the BurningDrop interface from where they can find out which coins they can transfer to participate. By entering the token amount of staking and trading password, users can enter a BurningDrop. Users can "Go Burn" their POLs as per requirements during the burning acceleration period to secure a better chance of getting allocation in a project's token. Individual allocation of tokens is calculated algorithmically based on 'Initial Allocation, Accelerating Coefficient, and Final Allocation.
Conclusion
One of the unique features of Burning Drop is it supports multi-chain assets. So users from various crypto networks can get access to new project tokens. With BurningDrops, users get a chance to secure more tokens and become long-term investors by burning POLs.
POLs are received as part of the rewards for staking on Pool-X. So, users don't even have to buy them separately! Furthermore, BurningDrops involve only the projects that display the potential to increase the utilities of crypto assets. No wonder it is one of the hottest features of the KuCoin cryptocurrency exchange. Don't forget to join their Twitter community to get daily updates like this about KuCoin Exchange and its new project listings on Spotlight or BurningDrop.