Global CPM Marketing: Different Industry Choices Under Covid-19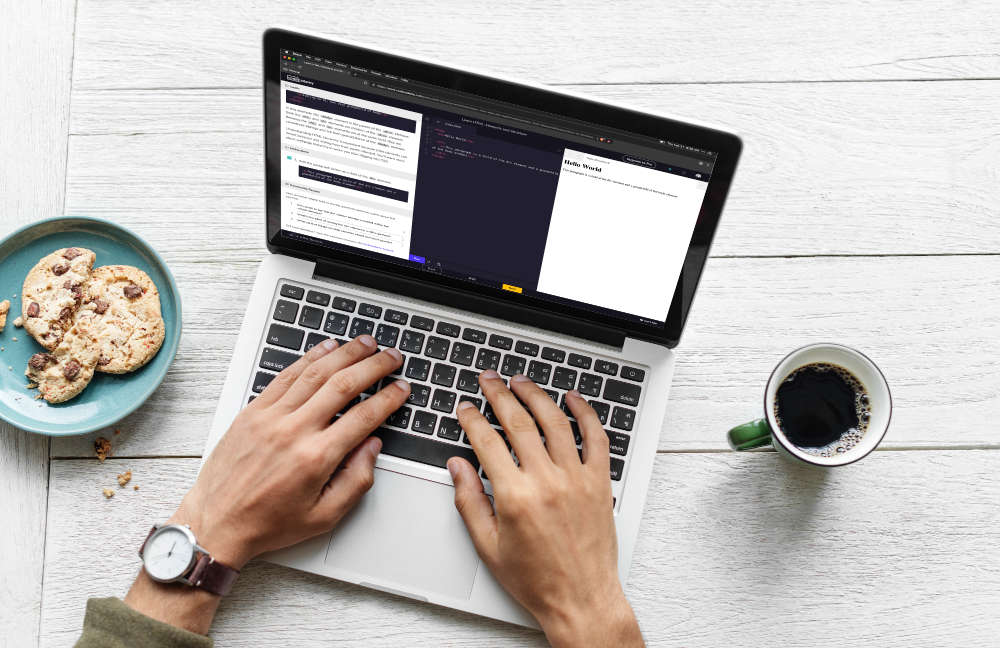 The present situation has become a headache for almost everyone in the world. Coronavirus disease (abbreviated as COVID-19) has been spreading since November 2019. The viral infection is having a massive impact on the planet. From the students of colleges and universities to the business tycoons, everyone is being affected by the coronavirus.
The section which is concerned most of all is the stock market crash. Apart from other affected industries, the digital advertising industry is also critically influenced; the drop in global CPM (Cost per mille -usually cost per thousand impressions) for the past four weeks is clear evidence of this.
Industries Which Are Most Affected By The Coronavirus
Tourism Industry
Various industries have been affected directly from this pandemic. The sector which is most likely to be troubled by the condition is tourism. When WHO officially declared the coronavirus a pandemic, most of the countries around the world have declined migration facilities. The facilities are declined for national citizens as well as foreigners.
A study of the international transportation association has revealed that if the virus keeps spreading at the current rate, global airlines can lose more than $113 Billion.
More than 100 countries have travel restrictions due to the coronavirus pandemic. The Trump administration has banned travelers from European airports so that they could not enter the US, which has hugely affected tourism.
Sports Industry
The unexpected spread of the disease is significant, and the only cause of many international sports to be postponed. For instance, the Summer Olympics and UEFA championships, which were supposed to hold in the current year, have now been rescheduled. They will be held in the summer of next year.
Sports bookmakers are most likely, waiting for the pandemic to stop. However, this loss for the physical sports industry has given a massive bump to the mobile gaming industry. According to AppSimilar, which is the most intuitive app data monitoring product, we can get information about most Gaming Apps.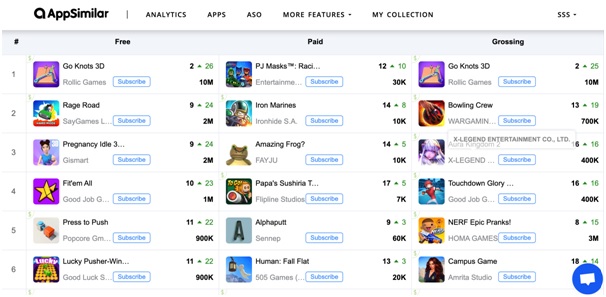 The list of afflicted industries is too long.
Retail, Marketplaces, Fintech, Restaurants, and entertainment industry is ultimately under significant loss. In short, any industry that involves physical interaction is greatly affected.
COVID-19 Impact On Jobs And Online Shopping
Jobs of many people are at risk. A study taken by the New York Times showed that almost 16 million American people had lost their jobs in a three weeks' duration of time. That is not all; daily-wagers are facing many problems because of the lockdown situation in many countries. More than 30M US people have filed for unemployment benefits in the last six weeks (as reported on April 20, 2020).
Almost all the shopping malls are closed except those selling necessity items. This, on the one hand, is a factor for unemployment, but on the other hand, it is shifting the trend towards online shopping. If we see the below screenshot from ADCostly, we can see a rise in click-through rate, a decrease in cost per click, and fluctuation in cost per thousand impressions, which shows that more and more users are showing interest in online shopping.
This pandemic has caused a sudden increase in population being indoors. People are spending their time on online stuff more than ever.
Healthcare Systems
We have discussed a lot of challenges due to coronavirus. Healthcare is primary among them. Healthcare systems are also facing many challenges as they are having a shortage of equipment to provide patients timely assistance. Every hospital's topmost priority is to protect hospital staff as they are the only ones to serve patients.
Education and Finance
Schools, colleges, and other institutions are remained to be closed due to the current situation, which is a significant loss on one side. Still, on the other hand, it is increasing more opportunities as well. Many educational institutions have started online learning systems (but this cannot fulfill all the academic requirements). Also, online learning platforms are at a boost these days. The current scenario has opened new roads for platforms that are related to online education.
The demand for online education has increased. Students are seeking help from online learning platforms at a more significant number; requests for corresponding help have increased. The competition has become more intense as the pandemic is going the extra mile.
Now coming to the finance sector, Stock markets, where shares of many companies are being sold, can affect the value of individual sharing accounts (ISA's) and pensions. It is reported that FTSE and The DOW have faced their most significant quarterly drops in the first three months of the year since 1987. FTSE has met -24.5%, and Dow Jones has -18.5% since the beginning of the year. This is creating a panic for the investors.
Many advanced economies are expected to enter recession this year, but the International Monetary Fund (IMF) says that the global economy will shrink by 3% this year. Factories all over the world are slowed down, and their revenue is decreased as well.
Employees facing financial problems are urged by the government to work from home, which is increasing the worth of tools like Zoom and other related technology companies. Application demand is also reduced; data fluctuation is more intense. Global CPC and CPM are experiencing a drop for the last four consecutive weeks.
Marketers Moving to Flexible Channels
The global CPM is being affected dramatically by the past few weeks as consumer presence and available impressions are increasing on social media and the internet. Marketers are facing a cut in their budgets due to the current situation. They are moving towards platforms that are more flexible and helping them in getting more return on investment.
There should be no doubt that online stores are beefing up. An online brand is having more attention than ever before, which is resulting in advertising companies decreasing their market budgets. Due to the decline in the competition, we see a drop in CPM and CPC.
If we see the below screenshot from ADCostly, one of the finest advertising cost analysis tools, we can observe how this CPM data is decreasing.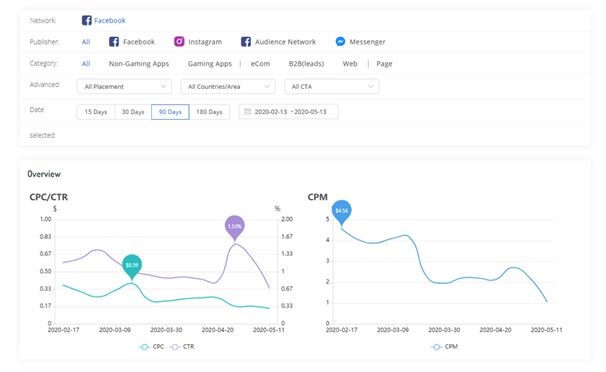 Changes In CPI
As it's quite evident that the present situation has forced people to stay at home for their safety and the safety of those around them. More and more people are now connecting to digital platforms for managing their daily tasks, seeking entertainment, and playing mobile games. Thus, the advertising industry related to mobile apps is experiencing more fluctuations, particularly the gaming industry.
Data from the ADCostly suggests that the global cost per install data is changing at a very different rate. Let's have a look at the below screenshot for detailed understanding.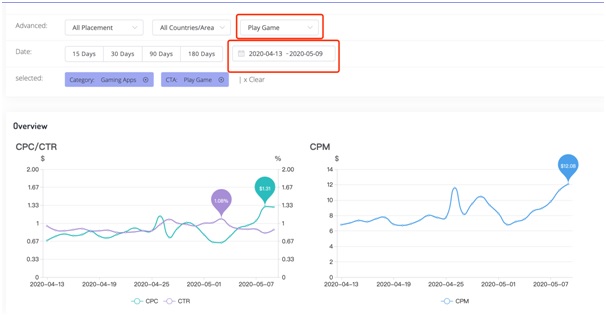 In the above screenshot, the analysis is performed using the category gaming apps with the selected call to action button as Play game. We can see that the CPM graph is rising, cost per click, on the other hand, is decreasing, while the click-through rate is increasing. Now let's change the call to action button for reliable estimation for the cost of downloads.
Okay! So we have now changed the CTA to Downloads. We can see how much difference is there when it comes to a different call to action button in the same niche. The global CPM and CPM has decreased, but global CPR is increased, which is an obvious indication of the shift in trends.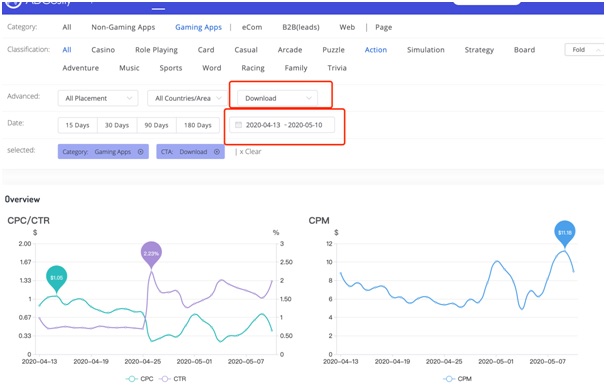 Final Words
Coronavirus pandemic is the primary cause of many challenges the global population is facing. Governments all over the world are trying to overcome financial loss as there is a visible decrease in the economy and market. Many industries have fallen their stocks. Meanwhile, many enterprises are trying to move their business online to overcome the loss.
Students are facing many challenges, as well as educational institutions. Tourism is restricted, and data fluctuation has become more intense. All this is also opening opportunities for some industries to reach more people by spending fewer bucks.
Author Bio:
Jacob Foster (Founder of ADCostly) IT Technical Engineer, has been in the Saas field for more than ten years. He began to study the issue of advertising costs in 2015, and began to develop ADCostly in 2019. His five years of research on advertising costs have made him very experienced.