7 Ways Fitness Apps Are Impacting Our Habits (2021)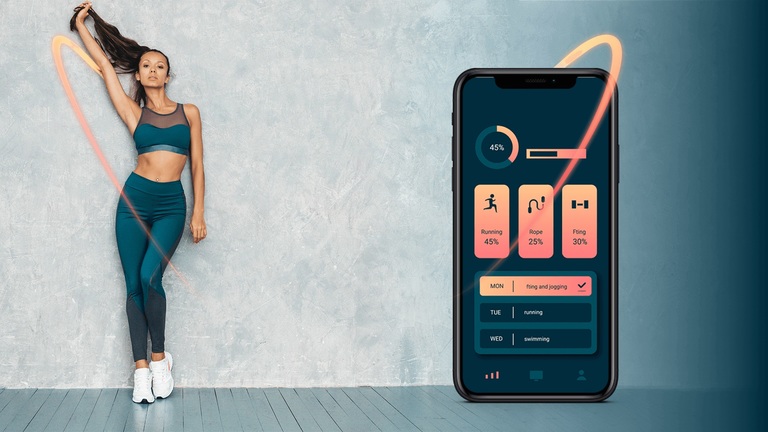 The health and fitness domain witnesses a surge in popularity in this pandemic age. Advancements in fitness app development and wearable technology have attracted a lot of people toward fitness. Talking about wearable fitness trackers, Apple Watch and Fitbit are also gaining ground and as per the Pew Research report, 21% of Americans use smartwatches or fitness trackers to meet their fitness goals effectively. How about integrating their data into a customized fitness app? A fitness tracking app development company does this for you.
The aim of fitness apps remains to make the user's lifestyle healthier by tracking habits and exercise patterns. Some apps are useful for tracking heart rate and blood pressure, and some fitness apps enable the users to take the assistance of a health coach who can help them achieve health goals effectively. Let's go through the top seven ways fitness apps can impact our habits and assist us to get a fit and healthy life.
Top Seven Benefits of Fitness Applications to Improve Our Habits:
1. Monitor Diet
Two types of people use health and fitness apps- One, who want to lose weight, and two, who want to gain weight. These apps simply need to put the type and amount of foods consumed at each meal along with the health target. Based on this information, fitness apps can calculate calories, proteins, carbohydrates, and fat content. In a way, users can easily avoid foods that are not right for their health. Some fitness apps offer a digital food diary to maintain healthy habits.
2. Track Progress
One of the most significant benefits of fitness apps is they facilitate users to monitor all workout and health-related progress in a single click. Users can fill in all their health details, fitness goals, and lifestyle-related information in the app, and keep them updated regularly. It helps them track details and changes in them in one go. The app also enables users to compare the present health parameters with the previous ones to find whether health is improved.
3. Get Tips
Most fitness apps provide health and fitness tips on a daily basis. On one hand, these tips assist users to meet their health goals, and on the other hand, these tips spread awareness for living a healthy life. Some fitness apps also send free workout or exercise ideas for people who want to start workouts but have no idea where to start from. Personalized health tips can keep app users motivated to follow all fitness routines and daily exercises.
4. Track Activities
Fitness tracking app development builds pedometer apps to enable users to keep a count of steps and track the distance they have walked. These apps are designed to meet the user's daily step count target effectively. Real-time monitoring of steps can improve the user's step count and make them motivated to achieve all the targets.
5. Virtual Coach
Many fitness apps provide the facility of a virtual personal coach. A reliable fitness app development company can integrate AI-powered features into the fitness app to give a personalized experience to app users, and they do not need any personal coach. Some apps enable users to get personal health coaches at affordable prices. It is possible through fitness apps to achieve fitness goals and get a personal trainer. Virtual coach functionality remains cost-effective and easily accessible for app users. It facilitates users to get rid of visiting fitness clubs or gyms physically.
6. Get Motivation
One of the most important aspects of a fitness app is it motivates users to achieve their fitness goals. It makes them more alert and regularizes their workout schedules. Real-time, personalized notifications and alerts keep the users reminding about their goals and keep them motivated. What's more, every time when the user comes across the fitness app, it can give useful information. Fitness apps make the user's lives easier and enable them to track activities regularly. With fitness apps, it is easy for app users to keep the focus on various exercises and overall fitness.
7. All-in-one Tool
A feature-rich fitness app gives a one-stop solution to monitor all the fitness activities and lifestyle parameters including water intake, food intake, and step count. There is no need to maintain diaries or books to keep a record of all these activities. What's more, it is possible to share the vital parameters like blood pressure, blood glucose level, and pulse rate with the doctor in case of emergency. It is fair to mention that as an all-in-one tool, fitness apps have a huge positive impact on our habits and lifestyle.
Fooducate, MyFitnessPal, Headspace are some big names in the fitness app domain. However, the health and fitness segment is still wide open and can give many opportunities to startups. A fitness app development company with an impressive track record can assist such fitness startups to come up with innovative and feature-rich apps.
Concluding Lines:
In this mobile-driven age, fitness apps bring health and fitness to your fingertips. People who want to get healthier tomorrow will certainly opt for user-friendly and easy-to-use fitness apps to change their habits. In a nutshell, the popularity of customized fitness app will grow over the period.
Author Bio:
Robert Jackson is a content cum digital marketer at Solution Analyst, a leading fintech app development company. He is an avid reader and likes to remain updated for technological advancements in the domains of the web, mobility, IoT, and emerging technologies. His articles are informative and interesting at the same time as he expresses insightful thoughts clearly.