Robots May Knock Your Door Soon! Check Out What The Food Delivery Industry Is Upto
The food and beverage industry is developing a taste for technology! Interesting, isn't it? Right from food delivery applications to cloud kitchens, this industry has taken leaps and bounds. So let's check out how technology is changing the way we eat. The global food tech market was $220.32 billion in 2019, and it is anticipated to jump to 342.52 Billion in 2027. And the online food delivery segment accounted for the largest market share of 45.4% in 2019
That is a whopping growth of 155% in just 9 years. But, do you know what drives this growth? Technology! The mobile app development service south Africa has come a long way with innovative applications that empower the food and beverage industry to experiment with new things. Ordering food through tweets, virtual assistants, Smart TV, Car, and just eyes, are a few trending experiments in the industry. But the most successful trend that is now a regular part of our life is food delivery application.
Drones, robots, and AI are at the forefront of this farm to fork model. But do you know what makes it the most successful? It's us. Millennials are the most tech-savvy generation. Apart from that, we have moved on from the concept of home delivery as a luxury to a necessity. This shift is driving the innovations in the food delivery application. The food delivery applications are just getting better and irresistible with every passing day. So let's check out some of the most successful ideas that are revolutionizing the business.
Innovation in Delivery Methods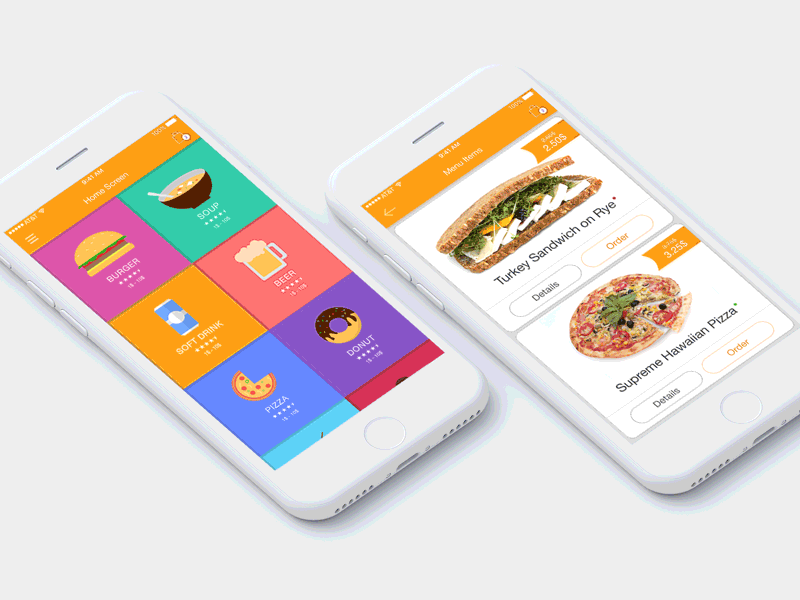 1. Food delivery robots
This pandemic-proof idea to deliver food has skyrocketed the demand for autonomous robots globally. While autonomous delivery robots were already in use in some urban areas, airports, universities, hotels, and large corporate campuses, now with a promise for contactless delivery, and social distancing, the use of these robots is growing exponentially. So stay alert. With this innovation, robots may appear at your doorstep sooner than you think.
2. Food delivery with Drones and Parachute
As impressive as these delivery sounds, there are multiple permissions and testings required to ensure proper delivery. In addition, while food companies have been trying out drones and parachute delivery since the year 2012, no Company has rolled it out officially yet. Although, experiment with such delivery methods is commendable. Isn't it? Tacos and Pizza across the world are taking air trips after several trials, food temperature tests, and negotiations with the government. So, let's keep our eyes on the sky for some pizza.
Apart from these fantastic delivery channels and methods, the best part for the consumers is that they can now order everything, raw, cooked, organic, and all sorts of personalized food, right from their smartphone. But, of course, the best part is that the companies get it all at their doorstep. In addition, the food delivery applications today are built to get you addicted. They make the food searching entertaining for you and gradually added gamification, photo filters, quizzes, recipes, and episodes! All they want you to do is chill at its best! Let's check out some of the best food delivery applications across the globe.
Top 3 Food Delivery Applications
UberEATS
The UberEats food delivery application, powered by the Uber network, was launched in 2014. The application allows users to browse restaurants in their area and place an order. Then, after they've put their order, real-time tracking lets you follow your meal on its way to be delivered directly to you.
Additionally, it helps you find restaurants near you, order your food on-demand, follow your order to the restaurant, and get emailed when your order is out for delivery. Also, the app offers a filter that customers can use to choose charges based on dietary restrictions, delivery speed, and price.
Freshly
Freshly, the name itself suggests what this food delivery application is known for – fresh-prepared-meal delivery. With a partnership with FedEx for delivery, this online meal delivery service offers gourmet, ready-to-cook recipes for home cooking.
They design healthy and delicious meals based on the ingredients you select. They handle all the planning and purchasing. Their chefs make pre-portioned meals; flash freeze them, vacuum seal them, and deliver them to your door on a regular schedule. It's fresh prepared meals with no waste-the way fresh food was meant to be eaten!
GrubHub
Considered the world's largest online and mobile food ordering network, GrubHub has grown exponentially since its founding in 2004. It is an online and mobile food ordering company. The website and mobile app allow diners to order food from local take-out restaurants. In addition, GrubHub provides local restaurant menus, user reviews, real-time order tracking, and food delivery. But it isn't just about food. So let's see what novelty is cooking in the food delivery industry.
What is new in food tech?
The food delivery app is going above and beyond just serving and entertaining its customers. Food waste application: with 1/3rd of the prepared food getting wasted every year, an application was developed that offers unsold meals from local restaurants, cafes, and delis with a 50 percent discount. With a motive of "Great Food Should be Tasted Not Wasted," Food for All enables anyone to grab dinner at an affordable price.
Pet food application: Pets today are as much as a family member for everyone. And their dietary requirements are a concern and hassle for most parents. Understanding this gap, Most Pet supplies released its pet food delivery application in the UK.
App with virtual kitchen: UberEats has come up with an affordable concept for everyone in the restaurant industry. Their platform lists new eateries and meals exclusive to their food delivery application. In addition, it helps restaurants cut down on operating costs by allowing them to use their kitchen space to prepare extra meals. It has already empowered a sushi restaurant by transforming a Rice Cafe ‒ into Poke Cafe, a virtual restaurant serving Hawaiian poke bowls.
There you have it – the impact of technology on food delivery and how rapidly it is evolving! In the end, it isn't how good your food delivery application is, but what problem is it solving, is it helping the community, is it engaging, and is it humane? That's why you don't just need a development partner to create a food delivery application. You need co-creators!
Author Bio:
Pranjal Mehta is a technology strategist and the Founder and Managing Director of Zealous System, which provides innovative and cutting-edge technology models and services to businesses. He has a fierce passion for technology, which is why he is deeply committed to delivering solutions to the key problems faced by Startups as well as Enterprises.