3 Reasons Why Your eCommerce Business Needs to Start Outsourcing
The e-commerce industry is at an all-time high, with online sales growing to at least 25% since the onset of the pandemic as reported by Digital Commerce 360. In 2020, over 2 billion people have turned to e-commerce to purchase goods and services.
There is also a significant spike in social media trends, forcing businesses to cater to their client's needs through online stores. This sudden projection in online demand enabled e-commerce and its consumers to stay afloat during the global crisis and made the industry flourish in ways never seen before.
To keep up with this growing demand, an increasing number of businesses have turned to outsourcing as one of their key e-commerce strategies. Read on if you are wondering how outsourcing can help you enhance your business ventures online.
What is Ecommerce Outsourcing?
eCommerce outsourcing is a solution that uses third-party companies, products, and services to create goods and provide services typically performed by in-house staff. It involves contracting work to a freelancer or a firm that offers various business functions. Now that remote work has become the new normal, outsourcing has become more prevalent among businesses.
Outsourcing can help you save costs and resources while augmenting workflows that you can't afford or are hesitant to hire new dedicated employees to the company for whatever reason. Ultimately, this solution helps you mitigate financial risks while coping with the growing demand of modern consumers, easily making it among the biggest ecommerce trends today.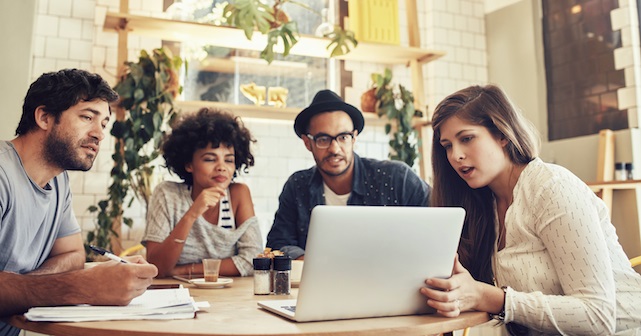 3 Benefits of Outsourcing for Ecommerce Businesses
With a seemingly never-ending list of aspects to deal with to keep your business up and running, it's a smart move to seek help from third parties with professionals on board who are dedicated to performing specific tasks. It's also financially better than doing it all in-house.
Still a little skeptical? Here are three main areas where outsourcing can help your e-commerce business thrive amid the challenges of intense workloads.
1. Increase efficiency
In 2021, Clutch surveyed 500 organizations in the U.S., revealing that the reason 80% of survey respondents wanted to outsource was to improve efficiency, experience business growth, and acquire the chance to work with business experts.
eCommerce outsourcing can significantly improve your operations' efficiency without doubling your overhead costs. Moreover, it allows you to utilize technologies and sources you don't have in your own country. The right outsourcing partner has access to a wealth of skilled talent to carry out the necessary tasks and functions. This will allow you to save costs and keep your e-business running smoothly.
2. Focus on Core Functions
By opting for e-commerce outsourcing, you can focus on doing what you do best, knowing that your business's non-core functions are in the good hands of a professional team.
3. Save Cost
The same study by Clutch reported that 90% of small businesses would be looking to outsource business functions in 2022 to save time and cost and ultimately grow their company. Building an in-house team entails you to invest, but cost-wise, it may not be the best financial decision. With outsourcing, there is a lower expenditure on hiring qualified staff, and you pay fewer taxes.
5 eCommerce Business Processes or Functions You Should Be Outsourcing
From writing product descriptions, building websites, social media management, and technical support to handling your marketing campaigns and legal affairs, outsourcing should be a significant part of small business success in 2022 and beyond. Here are five business areas where you should be outsourcing.
1. Website and Graphic Design
In a study published by Management Information Systems Quarterly, it was proven that an e-commerce website's visual design could enhance aesthetics and the emotional appeal of the visitors. Ultimately, people are more likely to trust a site with good design.
Meanwhile, Formstack says that 57% of users will not recommend a business that doesn't have a good website design. Another report by Amazon shows that recommendations can increase sales by 29%, so having a negative user experience can consequently affect your business. Fortunately, you don't have to do it yourself because this type of work can be outsourced.
2. Website Development and Maintenance
An e-commerce website can easily handle online transactions for customers to choose and buy products or services from your business. However, if you try to create a website alone using drag-and-drop platforms, you can't rely on anyone when errors arise. You can't make money if your customers can't use your website to buy your products.
That's where the assistance of e-commerce services comes in. By outsourcing this task, you can have your website go live quicker, and updates and bug fixes are more immediate.
3. Content Creation
For every online business, content is king. Content is everywhere, whether in social media, advertisements, or blogs. Good quality content can target your customers' pain points and sell your products or services in a way where it meets their needs.
Partnering with an e-commerce outsourcing service means getting good quality content, eventually boosting your website's SEO or Search Engine Optimization. Good SEO allows your website to appear right on top of the search engine whenever consumers search for your product or service or anything related to your brand or what you do, making them more likely to buy from you.
4. Digital Marketing
Digital Marketing uses technology and online channels to advertise, promote, and grow your brand. In this modern age, running an online business can be almost impossible without digital marketing. However, it is not a one-size-fits-all strategy. Every business is different, so each must have a unique digital system.
Working with an e-commerce services company can help ensure that your digital strategy work for your business. As more companies build their online presence, outsourcing your digital marketing becomes more crucial if you want to get ahead of the curve.
5. Customer Service
An online business's customer service differs from the traditional in-store or voice support in terms of the number of channels you can use. Email and social media are often used aside from the usual calls. Hiring e-commerce services for customer support can help you cut costs while improving customer experience. They can absorb the demands of 24/7 shifts, making your responses faster and more efficient.
5 Factors to Consider When Partnering with an Ecommerce Outsourcing Firm
There are five key factors to consider to avoid financial risks and make the most out of outsourcing.
Data confidentiality and safety: Losing your data, including your clients' and any financial information, will put your company in danger. It's best to keep your financial operations in-house. A data access management system can help you mitigate breaches and security threats to your company's data and safety.
In-house abilities: Keep it in-house if your company has all the human resources to perform a task. However, outsourcing is an option if there is a lack of in-house resources.
Stability of the country you are outsourcing to Before outsourcing to another country or delegating part of the tasks to third-party partners, examine the country's political and economic environment and consider all risks and the job market.
Control over the process: How much power does the outsourcing firm like to have over the process? Before sharing the responsibilities with a third party, this is a crucial question.
Language and Culture. Working with an organization with a different working culture than yours may be difficult and directly impact how the business operates. Language differences can become a hurdle in explaining your goals and what you expect from the project.
Start Outsourcing Today
Outsourcing is a cost-efficient solution for fast e-commerce business growth. You can outsource several tasks and services to optimize your online business, giving you more time to focus on the core of your functions.
Author Bio:
Michelle Bilan is a Product Marketing Manager at RUSH Technologies – the go-to e-commerce services partner of every business in making digital easy, efficient, and effective in the Philippines. She is highly skilled in the field of brand and project management, specializing in digital marketing, corporate communications, and content creation. During her free time, she enjoys singing, reading, and watching legal or historical dramas.