iPhone 11 Pro Max vs Galaxy Note 10 Plus: Which One Pulls Ahead?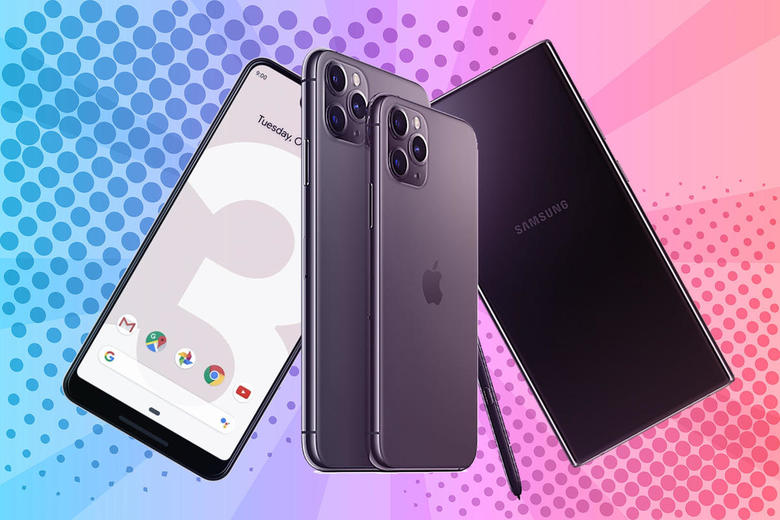 So here comes the pinnacle of Apple's bandwagon with the launch of three latest iPhones: iPhone 11, iPhone 11 Pro and iPhone 11 Pro Max. With iPhone 11 and iPhone 11 Pro lineup, they are just the same as predecessor from 2018. Minus the cameras and external outlook, there is nothing much to talk about these two models (sorry to the staunch iPhone users). While with the iPhone 11 Pro Max, it totally outclassed its competitors in terms of battery, design, camera, and a ton of other features.
We are setting the iPhone stalwarts on fire with premium high-tech Apple smartphones, but along the line, we also confess that there is another phone that is sleek, powerful and feature-packed – that does not necessarily starts with " i ". That is the flagship Samsung Galaxy Note 10 Plus phone.
The two brands are expected to pit against each other and giving a tough time to buyers. Since the investment is huge with the starting price of $1049 and $1099 for Galaxy Note 10 Plus and iPhone 11 Pro Max respectively, and you're confused between the two. This is the right place for you. Let's dive right in to know what's best for you?
Starting off with Display: iPhone 11 Pro Max vs Galaxy Note 10 Plus:
Smartphone users spend most of their time with phone screens and that should be sleek. So, If you love bigger handsets, here is good news for you. Both of these phones have larger screens with awesome pixels.
Samsung has stepped up its game with a 6.8-inch, AMOLED display with a resolution of 3,040 x 1,440 pixels whereas Apple offers a 6.5-inch screen display with 2688 x 1242 resolution. The Note 10 Plus has a high pixel density than the iPhone Pro Plus – which is a less drawing feature.
iPhone 11 Plus Pro is an OLED display and has Super Retina HDR 10 display, which gives phenomenal results even in the direct sunlight. So now, you have to decide whether a bigger display is equivalent to better display? But for me, that little difference is negligible.
It's a Tie: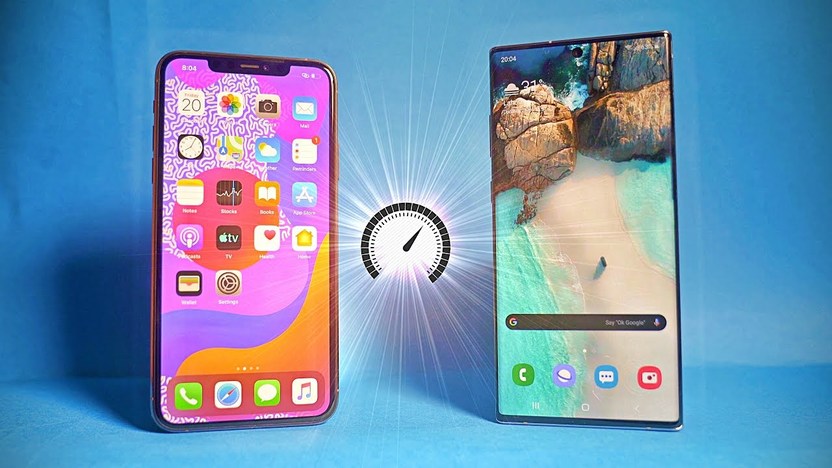 iPhone 11 Pro Max vs Galaxy Note 10 Plus: Design Language & Stability:
The design game is pretty competitive in both handsets – the iPhone 11 Pro Max and the Samsung Galaxy Note 10 Plus. However, they're truly different in their approach. The iPhone 11 did not escape the notch yet, and it still feels like a classy phone. It is built with a frosted glass on the back, comes in some smooth colors and hues.
The Galaxy Note 10 Plus looks amazing as well with excellent color options. It is a thinner smartphone with less bezels and edge-to-edge design. The screen-to-body ratio has increased which modifies the overall experience. Obviously, there wouldn't be enough space for the big camera; therefore, a small-hole punch camera is at the top. It surely looks more contemporary than the iPhone.
The two phones are made up of glass, so they presumably won't progress admirably whenever dropped. They have IP68 water-resistance and will absolutely work well if accidentally dropped in water.
Whereas iPhone 11 is thicker and heavier than Note 10 Plus, and it is suffice to say here that Samsung's sleek design outshined here.
It's Samsung Galaxy Note 10 Plus this time!
iPhone 11 Pro Max vs Galaxy Note 10 Plus: Overall Performance & Battery Life:
On an average Antutu score, iPhone 11 Pro Max takes the lead with 462,089 score and the reason behind is that iPhone 2019 is powered by A13 Bionic processor. The Galaxy Note 10 Plus, on the other hand, offers Qualcomm chip, the Snapdragon 855 with a score of 358,464. Generally, processing time is exceptional and speed would not be an issue in both of these phones. Regardless of the way that the iPhone offers just 4GB of RAM — 12 GB for the Note 10 Plus.
What we just discussed between the above lines, we get to know that Snapdragon 855 performs slightly less than Apple's A13 Bionic processor (20% approximately). Again, this won't be an issue if you're a casual user but A13 chip is top of the list in terms of performance.
It's iPhone 11 Pro Max this time!
Camera Specifications: What we see is what we get?
Camera is definitely a thing, iPhone stalwarts might be bragging about right after the launch of iPhone 11. Is it worth that much attention? Let's find out.
Both phones include three cameras but, Galaxy Note 10 Plus has brought a versatility with an additional time-of-flight (ToF) Depth – sensor camera in Note 10+. The three lenses feature pixels such as; one 12-MP wide lens, one 12-MP Telephoto lens, and one 16-MP ultra-wide lens, with the addition of one time-of-flight sensor. It also has a zoom-in microphone feature that lets you record a particular audio conveniently. Along with these incredible cameras, Galaxy has also introduced a new Night-mode feature.
iPhone introduced a triple-square camera at the back, two cameras with 12 MP wide and a third one with 12 MP ultra-wide lens. There is a built-in feature that lets you switch between the lenses in no time.
Both phones have jaw-dropping picture and video quality, but I would prefer iPhone 11 Pro Max.
It's iPhone 11 Pro Max this time!
Software Updates & Security:
Now the question arises that which of these two phones will get regular updates? As far as iPhone 11 Pro Max is concerned, Apple has a great history of updating its OS and security updates on time, whereas Samsung needs optimization with the new Android updates every time.
As far as keeping up your security, Apple will in general keep your information more secure from different organizations and you can trust it with your significant and private data.
All things considered, the Note 10 brings one additional bit of security to the table with better hardware. Both have a face ID sensor feature, however, the Note 10 plus also opted for an in-display fingerprint scanner for secure biometric recognition.
But, iPhone 11 beats up the Note 10 Plus due to its adoption to the regular software updates and security.
Yes! It's iPhone 11 Pro Max this time, again!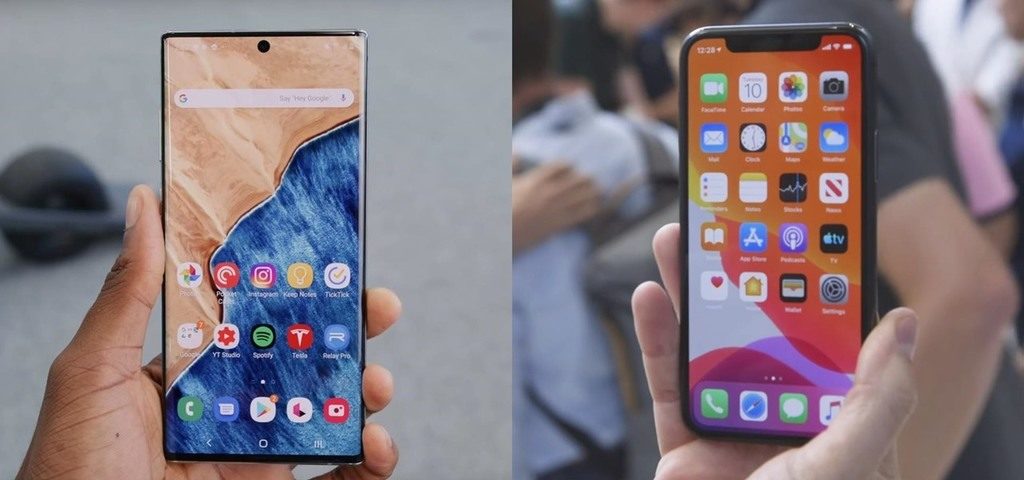 Samsung Galaxy Note 10 Plus Stand out Features:
With technology being immersive in our everyday lives, Samsung has really put it to the next level. It has introduced nifty and imaginative AR features in latest Galaxy Note 10 and Note 10 Plus phones. The AR doodle camera is a great feature that lets you draw anything out of your imagination and make your videos go bang.
Also, it wouldn't be fair enough if we do not talk about the stylish and handy Stylus Pen. The Galaxy Note phones have always edged out Apple, when it comes to S-Pen. S Pen is the one exclusively used for taking notes as well as to write you in air during AR doodle videos, and use it as a remote for the camera, a music player, and for different applications.
It's Samsung Galaxy Note 10 Plus this time!
Our Verdict: Who's the winner?
Before the Apple launch event, there were bits of gossip that the iPhone 11 Pro Max would get Apple Pencil this time with 2019 models ended up being false and we cannot expect it anytime sooner in 2020.
Apple's iPhone 11 Pro Max estimates 158 x 77.8 x 8.1 mm and the Galaxy Note 10 Plus measures 162.3 x 77.2 x 7.9 mm. The Note 10 has a bigger display as discussed earlier (6.8″), a little larger than the iPhone 11's 6.5 inches. The two gadgets have a glass back, and Apple guarantees that the iPhones' back is made out of a single sheet. Their casings are made of various materials, with the iPhone 11 Pro Max have of stainless steel and the Note 10 Plus having one made of aluminum.
If we see the design of the two phones, the Note 10 Plus has a superior presentation. Samsung's new phones have led in the bezel-free screens. With everything taken into account, additional features and design elements play an edge for the Samsung Note 10 Plus. While processing time, performance, security, UI, Software updates and camera go to the iPhone 11 Pro Max.
We cannot suggest which phone to buy. With all the pros and cons in front of you, the decision is easy. But we might recommend you to just not take a leap of faith with any OS as the ecosystem affects users the most.
If you love to shoot with pop up videos, design is your first priority – then go for Samsung Galaxy Note 10 Plus and if processing time, camera are your things – then iPhone 11 Pro Max is for you.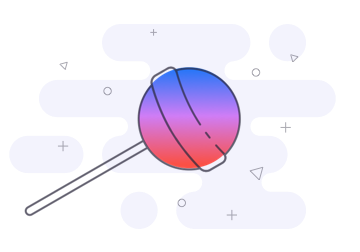 Author's Bio:
Bianca is a content creator & a passionate blogger. She is a professional tech blogger by profession & an avid reader by soul. She loves to explore topics related to news / technology, particularly content transfer. In her free time, she enjoys penning down her thoughts with a cup of coffee.
iPhone 11 Pro Max vs Galaxy Note 10 Plus: Which One Pulls Ahead?
Article Rating
Apple iPhone 11 Pro Max vs Samsung Galaxy Note 10 Plus – So here comes the pinnacle of Apple's bandwagon with the launch of three latest iPhones. *Apple iPhone 11 Pro Max Performance *Samsung Galaxy Note 10 Plus Performance