Free vs. Paid NTFS for Mac Software, How to Choose?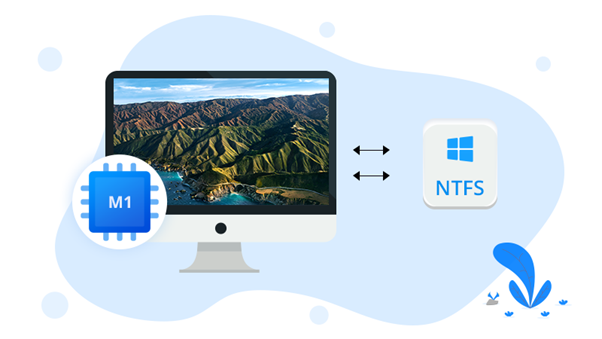 Introduction
The cool thing about external storage devices is that they are very convenient to store large amounts of data. Not only do they offer compatibility, but easy portability. Drives like USB, HDD, SD cards, and flash drives help the user share data conveniently. If you have ever handled or used drives, at one point in time, you must have come across formatting one.
Hard drives are electronic digital data storage devices that store data in a single file format. If the data is shared to another system with a different default file system, the data may be inaccessible. For instance, you have data in your Windows and want to open the same data on your Mac; macOS will allow only read action. To access the data on your Mac and allow read and write action, the best way is to have third-party NTFS for Mac software.
What Is NTFS?
It stands for "New Technology File System". It is the latest file system used by Windows to organize its files. This file system allows the user with efficient access to the files and a smooth storage procedure. The NTFS is the standard file system for the Windows operating system. So, it does not support the Mac operating system.
However, there are several NTFS for Mac software that bridges the gap by allowing your Mac to access, read and write NTFS formatted files and folder. The market is filled with hundreds of software; some are free while some are paid. Both versions of the software offer NTFS for Mac services. But which one is the best? Let's find out.
Free Vs. Paid NTFS For Mac
If you have never experienced the erosion of the software, you will find it hard to find that thin layer of difference between paid and free NTFS services for Mac. Here we are comparing free and paid services based on these pillars.
1. Compatibility
The first thing that matters while selecting a free or a paid software is compatibility. Free software usually comes with limitations. For instance, you might find that the respective software is compatible with only a selected few operating system versions. On the other hand, paid versions offer a wide range of compatibility.
2. Performance
Performance is where you can clearly feel the difference. With the free version, you will find that the software is quite slow at accessing the data. Furthermore, it has limitations to the types it can access. However, with the paid software, you can definitely feel the performance boost.
3. Security
Free software is prone to malware infection, and don't forget the continuous ads. The malware and virus infection expose your data to extreme risk. This is why people avoid free software. With the paid software, you are assured of a high-security network, and all your data enjoy high-level data security.
4. Support
There is a clear difference between the support system. Free NTFS for Mac software hardly gets any updates; thereby, it keeps your software exposed to new bugs and viruses. On the other hand, paid software is thoroughly maintained, and the support team ensures you have healthy software.
5. Supported Files
Free software has limitations with the types of files it can support. While you are using free software, you might find that some files cannot be accessed or opened. You can't even complain about it as you are using free software. However, with the paid software, you get to access a wide array of file types.
Conclusion
After going through this article, you must have understood that the difference between a free and paid NTFS for Mac software is huge. In fact, a novice might easily find that difference. In a nutshell, there are both advantages and disadvantages of free NTFS for Mac programs. However, if you are in a position where you need to deal with data and information from all types of operating systems, it is always better to have professional NTFS for Mac software.
Author bio:
Ciki, technical expert @iBoysoft. She has over 5-year experience in data recovery/repair technology and data security. She loves to write tips and tutorials about Mac data recovery and try to help the readers solve common Mac problems.