The Ultimate Guide To Wet and Wavy Hair Extensions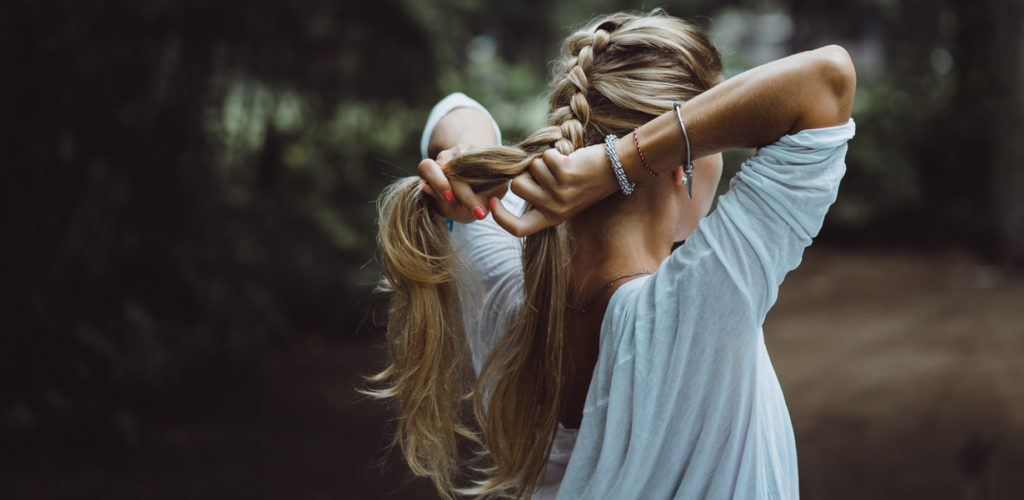 Women who want to experiment with hairstyles or protect their hair from damage choose hair extensions as their ultimate solution. With an overwhelming number of hair extensions to choose from, ladies are often confused about which one to get. Let us clear your confusion, Wet and wavy hair extensions are the way to go! We know that you might have some other preferences, but wet and wavy hair extensions are a whole new ball game when it comes to their ability to transform from straight to curly and curly to straight with a little bit of maintenance.
In this blog, you will find some of the advantages of choosing wet and wavy hair extensions, how you can switch them (straight/curly), how you can care for them, where you can get them and how to style them. This blog is your ultimate guide to wet and wavy hair. If you are considering wavy hair extensions, check out Hair Factory's collection of hair products. Their products are of premium quality, with the availability of hair extensions of your choice. With that being said, let us get into your wet and wavy hair transformation!
Switching Between Straight/Curly
By Using a Brush: Wet and wavy human hair is designed to naturally curl and relax without the use of chemicals. Simply dampen the hair with a little water and allow it to create its natural waves and curls. If you want to straighten out its curls for a sleeker look, all you have to do is use a round brush and gently smooth out the waves. Start brushing down and under one area of hair at a time, starting at the tips of your dry hair extensions. However, you can use a round brush instead of a paddle brush or a wide-toothed comb to detangle natural Black hair.
By Using Heat: If you have wet and wavy hair extensions with tighter curl patterns, you may need to use a flat iron to straighten your hairpieces. To make this technique work, you'll need to make sure your hair extensions are properly secured on your head so you can use the iron without damaging it.
Pro tip: To get the best results, use the lowest setting on your iron. Another option is to use a comb or brush attachment on a hairdryer to get a straighter style from your wavy hairstyles. When the hairdryer is set to a warm setting, it consumes far less heat than a flat iron and produces the same results. When blow-drying or flat ironing your hair, make sure it is absolutely dry. Wet and wavy hair is designed to curl up when wet, so washing the hair extensions when you wish to straighten them will simply make your job more difficult.
How To Maintain Wet And Wavy Hair
If washed incorrectly, wet and wavy hair extensions are more prone to tangling and matting. Using the right products and ways to protect them when washing your hair will help you maintain and extend the life of your extension.
Wash It Correctly: Wet your hair completely and gently massage in the shampoo in downward strokes. Avoid rubbing your hair in circles since this will result in tangles and matting.
Using warm water, thoroughly rinse your hair.
Apply conditioner evenly to your hair and leave it on for 10-15 minutes.
First, detangle your hair with your fingers, then use a wide-tooth comb.
Rinse the conditioner thoroughly to ensure that all conditioners have been removed.
Allow your hair to air dry after patting it dry with a towel to remove excess moisture.
Use a leave-in hair conditioner for an edgier look.
Reduce Tangles: In the shower, detangle your wet and wavy hair as much as possible with flowing water. The best technique to get rid of knots is to use a wide-tooth comb or your fingers to work through each knot after applying the conditioner. Remember that your hair is weaker while it's wet, so go easy on it.
Enhancing The Shine: The best shine comes from smooth and flat edges. When hair is damaged, it loses its shine, appearing damaged and dry. Using cold water, rinse your wet and wavy hair. Coldwater closes the hair's cuticles, allowing it to lie flat and reflect luster and shine.
How To Style Your Wet And Wavy Hair
Shingling: This way of styling means that you are coiling your wet and wavy hair one strand at a time. It is time-consuming, but this is an excellent method for achieving natural-looking, defined curls. Apply a small amount of mousse or hair gel to each curl for the best results.
Finger Coiling: Begin by twisting a portion of your hair from the root. Twirl the hair around your finger, extending it until it bounces. This technique, unlike shingling, can be done in bigger portions; however, it can also be done individually. You can also choose how loose or tight you want your curls to be using this option.
Braiding It Out: Make eight to ten sections with your hair, twisting or braiding each one. Pin your sections to your head, locking them in place with pins. Ensure your hair is completely dry before unraveling the twists and fluffing it. Give it a night or some hours to get the best results.
The Advantages of Wet and Wavy Hair
1. It is Natural-looking
Human wet and wavy hair extensions provide a more natural look and feel than synthetic strands. If you want to leave some hair out for blending or coloring, hair extensions are a fantastic option. It can blend in seamlessly with your natural hair, making it difficult for others to notice you're wearing one. Virgin hair extensions are incredibly thick, soft, and luscious. It tends to be fuller at the root and thinner at the ends, giving it a more natural or realistic appearance.
2. It is Easy to Maintain
Believe us when we say that wet and wavy human hair extensions will exceed your expectations! Any hairstyle can be achieved with its exceptionally light, silky, and lustrous material. These hair extensions are best-selling products because of their gorgeous appearance and ease of care.
3. It is Durable
Human wet and wavy hair extensions have the best longevity and durability, which is one of the initial reasons women choose them. This texture, which comes in the shape of loose, carefree curly bundles, is known as your ultimate hairstyle solution. The longer you leave it on, the better it looks when it comes to human hair.
4. They Are Made Of High-Quality Material
When talking about high-quality material, do not forget to check out Hair Factory for all your hair needs. They offer a wide range of choices for any type of hair extension that best suits you. Their collection of weaving hair extensions is not limited to just wet and wavy hair; they have different textures that blend in with any hair type.
Conclusion
Finally, we are here and hope that our ultimate guide to wet and wavy hair extensions has made you a little wiser while choosing these types of hair extensions. They are basically under the versatile hair extensions category because they can effortlessly transform into a straight and curly style. They might require some maintenance but a little maintenance should not come in between you looking gorgeous. We are sure that you will easily be able to care for it as we have given some tips for that too.