10 Best Swimsuits For Plus Size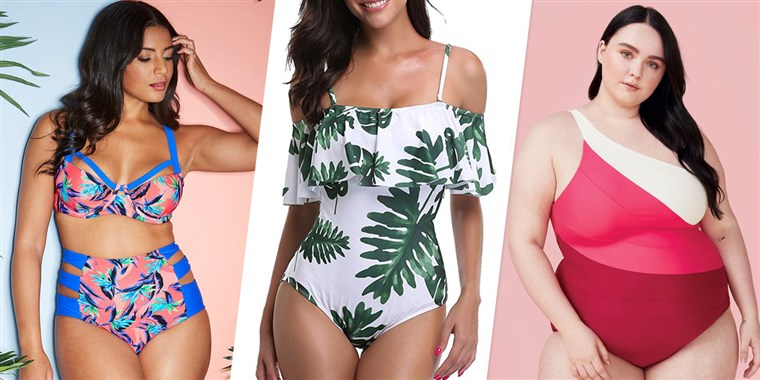 With April right around the corner, we are ready to bid farewell to our sweatshirts and slip into our swimsuits to celebrate the waves at the beach! Recently, we have been on the lookout for plus-size swimsuits that can help us appreciate and accentuate our body curves.
Plus-size women find it exceptionally hard to get out of their comfort zone, especially in apparel that exposes nearly more than half of their skin. Body shaming, discrimination, and gram-friendly stereotypes force curvy women to stay under the hood, but not anymore! Since plus-size women deserve every right to embrace their curvy silhouettes, we explored a lot of curve-friendly options and came up with the top 10 best swimsuits for you!
1) Swimsuits for All Cruiser Swimsuit by Fashion Blogger, Gabifresh
Ready for a quirky, color-blocking swimsuit that also features a flattering, asymmetrical design fit for your huggable curves? Next up on our list is a quirky design from Gabi Fresh's ultimate swimsuit collaboration with the brand, Swimsuits for All, that is quite well-known for its plus-size initiatives!
The All-Cruiser Swimsuit comes in a pretty lustful package – thanks to the power mesh at the front and the faux leather patchwork on the shoulders and bust. To support your busty bosom and flattering curves, it comes with built-in, wire-free cups as well as adjustable straps for utmost comfort!
2) Amazonia Moulded One-Piece Swimsuit
We are guessing balmy breezes, tropical birds, and margaritas for the plus-size swimwear we are about to review. The Amazonia Moulded One-Piece Swimsuit is designed for women who would love to wear a playful number to the beach. Appropriate for sizes 16 to 26, this swimsuit is a heart-throb and will go pretty well with a sheer kimono or a polyester wrap around the waist!
3) Kona Sol Women's Twist Front Bandeau Swimsuit
Next up is the Twist Front Bandeau Swimsuit from Kona Sol's swimwear line that screams sensuality and affordability in all of its glory! The bandeau swimsuit features a spandex lining as well as removable straps to ensure you are comfortable in the strapless design. The swimsuit consists of built-in cups that are sewn with the lining for unremarkable softness!
4) Modern Mystic Padded Cut-Out Halter Suit
To our delight, we found a quirky-patterned, cut-out, halter swimsuit for both petite and plus-size women who have big D, F or E cups! The halter suit comes with straps that you tie at the back of your neck along with a sexy, cut-out design that exposes the perfect tan of your waist!
5) Becca Etc. Color Code Tankini Top
The Color Code Tankini Top by Becca ETC. is our ultimate choice for days when we are feeling flirty! Tankinis allow you to expose as minimal skin as you want and feel confident at the same time. The color code tankini top does leave a little room to the imagination. It features a little cut-out at the bust for a generous peekaboo plus removable cups for ensuring comfort with style.
6) La Blanca Off-the-Shoulder One-Piece Swimsuit
This Off-the-shoulder one-piece swimsuit can be styled in innumerable ways thanks to its ruffles, frills, and shirring that set it apart. From flappers and culottes to a playful, Bohemian skirt, the off-the-shoulder one-piece swimsuit is a stylist's ultimate dream! But what sets it really apart is the tummy toner panel in the middle of the swimsuit! It also consists of removable straps that can be adjusted to any length for comfort.
7) Angerella's Vintage Polka Dot High-Waist Bikini Set
Remember the 1950s' when high-waist bikini sets were in full swing? Well, Angerella's line of swimsuits includes the vintage polka dot high waist bikini set that might remind you of Audrey Hepburn's movies! The bikini set features a pair of high-waist undies that can help you battle the bulge for a more confident yet upright look! Plus, the bikini top is underwired and padded for providing maximum support to heavy bosoms.
8) Old Navy Leopard Print Tankini with Tie Front Style
With underwired, shapely foam cups and a trendy monochrome leopard print, this tie-front plus-size tankini will keep you fashionable for the rest of the summer! In addition to the lively print, this quick-drying tankini also has convertible straps for convenient adjustments! With built-in SPF 40+, the tankini protects you from UV rays, allowing you to stay out in the sun for as long as you like!
9) V-Plunging One-Piece Swimsuit by Rod Beattie
Plunging V-necklines have all the charm! The strappy, plunging one-piece swimsuit draws all focus to Rod Beattie's evergreen Bleu line of urban trendy swimsuits. The plunging neckline features a sexy crisscross show embellished with gold beads that are sure to attract all the attention to you on the beach!
10) Indie High-Neck Tankini Cover
This Indie High-Neck Tankini cover is layered with crochet that's playing peekaboo on the frontlines! Inspired by the rippling waves, the crocheted tankini cover with its Rouleau halter neckties is on its way to becoming the most happening design of 2020!
Conclusion
From revealing strapless swimsuits to high-end, quirky tankinis – our hunt for the best plus-size swimsuits has been enjoyable at the very least. With 2020 in full storm, a lot of fashion brands are becoming size-inclusive and have launched lines for both petite and curvy women. But sadly, not many of them offer too many options for curvy women to choose from! We hope that next year, we get to review plus-size swimsuits from brands that did not make the cut in our list.