Why Use Zoho CRM for Your Business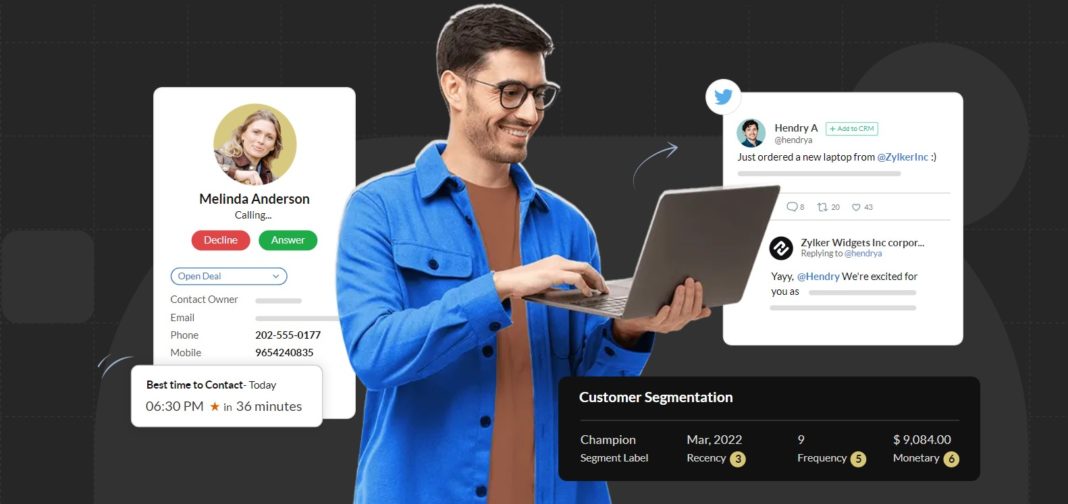 If you're like most business owners, you're surely looking for ways to improve your business's efficiency and grow the bottom line. One way to do that is to invest in Zoho CRM development. If you don't know about Zoho CRM, there is no need to worry. This blog will educate you about Zoho CRM in the upcoming sections.
Zoho CRM is a popular and effective cloud-based customer relationship management software that is used by businesses to manage their sales, marketing, and customer support activities. It includes various features that can be customized to fit the specific needs of each business.
What Makes Zoho CRM Stand Out?
You can find tons of CRM software and applications. But what makes Zoho CRM so special? Let's find out.
For starters, it's incredibly user-friendly. It's been designed with the busy small business owner in mind, so you can easily keep track of your contacts, leads, and deals. You can also access it from any device, whether at your desk or on the go.
Zoho CRM is highly customizable, so you can tailor it to suit your needs. Moreover, getting started with Zoho is equally easy. And if you need help, you can easily hire a top Zoho CRM development company for accurate outcomes.
Plus, it integrates with many other business applications, making it the perfect one-stop shop for all your business needs.
What Are the Benefits of Using Zoho CRM?
Zoho CRM is one of the market's most popular customer relationship management (CRM) software. It's used by businesses of all sizes to manage and track customer interactions and sales data. So what are the benefits of using Zoho CRM for your business?
Flexibility and speed of cloud: Zoho CRM is a cloud-based software, so it is accessible from anywhere and anytime.
A comprehensive CRM system: Businesses can manage a wide range of customer data. They can record customer interactions and track sales data as well. It gives them deeper insights into the buyer's journey.
Automate tasks and processes: You can create workflows to automate routine tasks, such as follow-ups and email marketing campaigns.
Is very affordable: It is a cost-effective CRM system that offers a variety of pricing plans to cater to businesses of all sizes and satisfy their needs.
Overall, Zoho CRM offers great value for money. It's perfect for businesses of all sizes, with no hidden costs or subscription fees.
What Are the Key Features of Zoho CRM?
Zoho CRM is a feature-rich CRM software. Compared to other CRM tools, Zoho offers almost the same level of functionality and optimization. But the best part is that you pay only a fraction of the costs charged by other CRM providers.
Here's a look at some key Zoho CRM features:
Lead Management: Zoho CRM provides powerful tools for managing leads and converting them into customers. It also allows businesses to track their sales pipeline and monitor their performance against targets.
Contact Management: The software provides an easy way to store and manage customer contact information. It also allows businesses to keep track of customer interactions, such as phone calls, emails, and meetings.
Opportunity Management: Zoho CRM helps businesses identify and track sales opportunities. It also provides tools for managing the sales process, including quoting, invoicing, and tracking payments.
Reporting & Analytics: Zoho CRM provides comprehensive reporting and analytics tools to help businesses track their performance and understand their customers better.
Sales Pipeline Management: Zoho CRM helps you track your sales pipeline and forecast your sales outcomes. You can create sales stages, track each opportunity's progress, and measure your sales team's performance.
Task Management: Zoho CRM lets you create and manage tasks for your contacts and sales opportunities. You can set due dates and reminders and track the progress of each task.
Integrations: Zoho CRM integrates with various other applications, including Zoho Desk, Zoho Books, and Zoho Campaigns, to help you manage your business processes.
Customization Options With Zoho CRM
Organizations can modify Zoho CRM to match their business processes with the help of our in-built customization tools. By customizing Zoho CRM, businesses can automate their workflows, add new features & functionality, and change the user interface according to their preferences.
Some of the popular customization options available with Zoho CRM are:
1. Custom Fields:
With Zoho CRM, you can capture specific information relevant to your business. Zoho allows users to create custom fields. For instance, you can add a custom field for tracking product serial numbers or customer loyalty points.
2. Validation Rules
Validation Rules ensure that the data in your CRM is accurate and up-to-date. There are two validation rules in Zoho CRM: Field-level validation and Record-level validation rules.
3. Association
In Zoho CRM, you can create an association between two records to indicate they are related. Associations are useful when you want to track the relationships between records.
4. Copy Customization
It allows you to duplicate existing customization in your organization. This feature is useful when you want to create a new customization based on an existing one or when you want to copy the settings of an existing customization to another customization.
5. Translations
Translations are a way of translating text from one language to another. This is useful in Zoho CRM when you have a customer or prospect who speaks a different language than you. By translating text, you can communicate with them in their language.
6. Custom Functions
They allow you to create your calculations and fields in Zoho CRM. This can help track data specific to your business or calculate values not already available in Zoho CRM.
Where to Go for Professional Zoho CRM Development?
If you are looking for professional Zoho CRM development, there are a few places you can go.
Zoho Developer Network: It is a great place to find developers already familiar with Zoho CRM development.
Freelance Platforms: If you are looking for a freelance developer with project experience, you can try platforms like Upwork, Freelancer, and Guru.
Author Bio:
Julie Aplustill is a renowned content marketer from California, USA, associated with Closeloop Technologies – a trusted IoT software development company. She also loves to share her views on the latest digital technologies, web development trends, and augmented reality and prefers diverse niches.